Kristen Bell Shares 'Old Married Woman' Advice On Keeping Relationships Healthy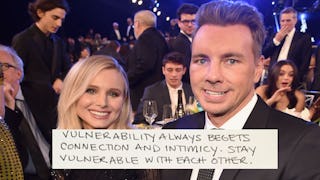 Image via Kevin Mazur/Getty Images for Turner
In case you've ever wondered, 'What Would Kristen Bell Do' — here you go
Where do we sign up for the Kristen Bell e-newsletter on how to live life? Because she's always offering some of the most relatable, honest tidbits from her life and we love her for it. Her latest Instagram post is no exception.
For Valentine's Day, Bell shared a handwritten letter full of valuable, pretty deep relationship advice. She explains someone requested that she write a note for a soon-to-be-married couple. "I wrote something congratulatory but then thought 'Kristen! Wait! You are an old married woman, shouldn't you have some wisdom to share?!'"
And wisdom it is.
"After I was finished I realized what I wrote is pretty much the A-Z of how Dax Shepard and I keep our relationship healthy," she writes in the caption. "It's worked for us so far, so here ya go."
Her number one suggestion is to "stay vulnerable with each other," which she believes fosters intimacy and connection — two undeniably key components to a healthy relationship. Bell also advised that "necessary separateness" is key to any good relationship, which is so important for those of us who are parents.
As a work-at-home mom, I know at the end of the day sometimes I'm all "touched out." I just need some solo time to decompress from the day and feel more like myself — which honestly does help me be a better partner to my husband.
Bell and Shepard are the parents of two young daughters: Lincoln, 4, and Delta, 2. They've always been fairly candid about their relationship struggles. "We love each other to the moon and back, but we do have a lot of road bumps," she said in an interview last year. "We make funny videos like 'Africa' and the sloth, but we also go to couple's therapy because we disagree on 99.9 percent of issues."
"Loving someone despite their faults, failings, or character defects, is the most powerful, loving thing you can do," she writes in the letter. It's no secret a generally happy marriage takes work. And a lot of it. It's a constant balance of trying to be supportive without losing yourself, and to not forget each other when you're drowning in All The Kids' Stuff.
But theres no denying Bell and Shepard make it work. And we love their willingness to share these bits of wisdom with the rest of us.
"In 10 years, when the dopamine has waned, remember: life is a crazy ride. It's a privilege to go through it with a partner."