Kristen Bell Opens Up About Taking Medication For Her Anxiety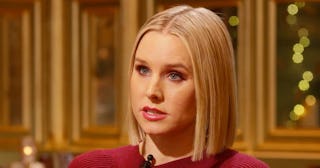 TODAY
Kristen Bell gets candid about taking medication to help with her anxiety and depression
As the Disney hit Frozen 2 hit box offices this past weekend, one of its stars, Kristen Bell (who voices Anna), sat down with Today Show host Willie Geist for an interview about her career, marriage, and a very candid conversation about mental health.
Bell, who recently got a star on the Hollywood Walk of Fame, went on the Sunday Sitdown show to chat and was her usual perfect self. She joked around about the Frozen movies and her rise to stardom, telling Geist she only has one life and she would like it to be "as lively and happy" as possible. Given that, she also talked openly about a topic that still holds so much shame for some –her battle with anxiety and depression.
The mom of six-year-old Lincoln and four-year-old Delta started by talking about her long-term relationship with now-husband Dax Shepard, and the importance of being open with her girls and their larger fan base. "We didn't want people to think that this idea of like 'relationship goals' was easy, so we started talking about mistakes we've made, and problems we've had, and how we go to therapy, and when we fight and how often we fight — which is a lot," she told Geist. "We just started feeling better about ourselves."
Geist then asked about Bell being a role model of sorts for opening up about her mental health in the effort to take the stigma and shame out of the conversation. "The last few years you've been very open about anxiety and depression and things you struggle with that so many people in this world suffer with," Geist said, "and I think they think there's some shame in it."
"Everyone thinks there's some shame in it," Bell said, nodding her head.
"But if they see Kristen Bell, who projects — even sitting right here — she's happy, she's smart, she's bubbly," Geist continued.
"I'm like 'bubbles, glitter!'" she joked. "No, it's not always that way. I am someone who takes medication for her anxiety and depression. I am someone who has to check myself and sometimes — if I'm feeling really low — make a checklist of good and bad things in my life to see if it's my mental state or if we really have a problem."
Bell, who in addition to her work finishing up the final season of The Good Place, doing the work and press for Frozen 2, and continuing her hilarious show Momsplaining, is doing her part to make sure no one feels "less than" for talking openly about mental illness, seeking help, and sharing their stories.
Bell gave her husband the credit for prompting her to be so open. "He was like 'Why don't you talk about your anxiety and depression?' and I had never thought about that before. And I immediately felt incredibly irresponsible," she said. She also joked that she has to give him credit for being right… again. "Ugh, I hate to give him credit for everything, it's so annoying that he's so right about everything," she joked.
This article was originally published on