Kristen Bell Shares Wedding Photos For The First Time, And They're The Cutest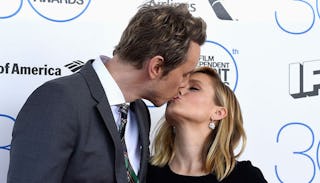 Image via Frazer Harrison/Getty Images
Kristen Bell's wedding photos with Dax Shepard are the definition of #RelationshipGoals
Our mom BFF, Kristen Bell, has been married to her husband, Dax Shepard, since 2013, but details of their wedding have been kept completely under wraps — until now, that is. In a recent interview with CBS Sunday Morning, Bell shared photos from the pair's courthouse wedding for the very first time, and they're just as adorable as you imagined.
Bell and Shepard, who have two toddler daughters together, opted out of the lavish celebrity wedding trend. Instead, she told CBS they got married for a whopping $142 at a courthouse in California. Shepard wore a tux, and Bell donned a classy black top and slacks with a gorgeous necklace. Said Kristen, "We got married in a tiny room in the Beverly Hills courthouse. It was still one of the best days of my life."
While revealing the photos, Bell got teary-eyed talking about what her husband and their relationship means to her. "He's a wonderful father," she said, wiping her eyes. "He knows the value of things. He was an addict for many, many years, and he pulled himself out of it. He's been sober for almost 12 years now. He knows how many times he's messed up, and how many times he's been really close to losing everything."
Understanding the value of their life together seems like something the pair have in common. This isn't the first time Bell has spoken out about Shepard's previous struggles with addiction, and she's always quick to point out that they work really hard to keep their marriage happy and healthy.
"We love each other to the moon and back, but we do have a lot of road bumps," she told Bustle earlier this year. "There are days when I'm completely sick of him, and there are days when he is completely sick of me. But we've chosen to love one another and to be a team."
Bell and Shepard are one of Hollywood's most beloved couples, and it's partly because they're so dedicated to their relationship and their family life. They could've easily gone the Hollywood route, and had helicopters flying overhead as they married in Malibu among 300 other A-listers — and no one would blame they if they did. That's a part of the celebrity lifestyle.
But, instead they seem committed to privacy, to working on their marriage when they need to, and to keeping the focus on what really matters to them. Regardless of where they had their wedding, those things all seem like a recipe for happily ever after.
This article was originally published on