Kristen Bell Spent The Weekend Entertaining Irma Evacuees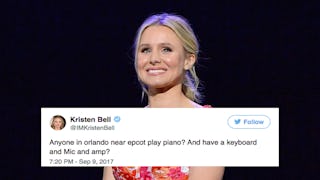 Image via Jesse Grant/Getty Images for Disney
Bell has had a busy week entertaining those stranded by Irma
Those stuck in Hurricane Irma's path were essentially trapped in several Florida cities this weekend, with curfews intact and weather conditions making it impossible to travel. Kristen Bell was one of those people — and she entertained everyone around her. Bell seems like the kind of woman who would always make the best of bad situation — and that she did — by throwing herself a karaoke party and having dinner with some of those stranded by the hurricane.
Bell posted a harshly worded (and completely deserving) Twitter message to Irma on Wednesday while beaching it with the cast of her upcoming movie Like Father.
Bell, who was unable to evacuate Orlando before Hurricane Irma hit, later posted "Just doing our best and trying to stay positive but cautious, and trying to help those who need help prepping."
And help she did — by lifting the spirits of everyone she encountered. The singer and actress tweeted Saturday, asking "Anyone in orlando near epcot play piano? And have a keyboard and Mic and amp?"
Apparently successful in her search, a few hours later Bell tweeted, "Orlaaando, i looove you! I found a mic, amp, keys and accompanist… thank you orlando!! #Irma2017."
She decided to put the equipment to good use, showing up at Meadow Woods Middle School in Orlando on Sunday to deliver a surprise performance of 'Frozen' favorites. The middle school has been turned into a shelter for those impacted by the hurricane.
Bell later posted a hilarious picture capturing the performance with her "back up dancers."
Bell was also busy earlier in the week, saving fellow Frozen costar Josh Gad's parents who were also stranded by Irma. "No joke. @IMKristenBell just literally saved my parents, my brothers and entire family from #HurricaineIrma – you are an angel," he wrote. "I adore you." Bell plays Anna in the movie.
But Bell wasn't done yet — not even close. Bell posted another picture on Sunday of herself having dinner with some of the "thousands of senior home evacuees" also staying at Disney's Swan and Dolphin Hotel.
Bell has been posting updates on her Twitter page keeping everyone, including husband Dax Shepard, apprised of her whereabouts, as well as her new "side piece" in Orlando.
Just when you thought you couldn't love her more.
This article was originally published on