Kristen Bell Pens Honest Essay Reminding Us There's Nothing Shameful About Depression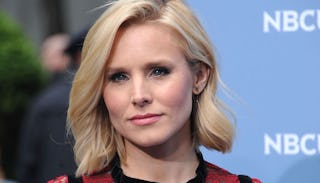 Image via Brad Barket/Getty
Kristen Bell wants to eliminate the stigma of dealing with depression
Kristen Bell is known for her sparkling, bubbly personality, but even being a shoe-in for the title of America's Sweetheart doesn't make you immune to suffering from mental illness. Bell made headlines a few weeks ago when she went public with her struggles with anxiety and depression, and now she's opened the window into her world even wider in a revealing new essay that reminds us there's nothing shameful about being depressed.
In her essay on Motto, Bell says it was her mother who first educated her about depression and encouraged her to ask for help if she ever felt like "a dark cloud" was following her. "You can talk to me, talk to a therapist, talk to a doctor. I want you to know that there are options," the actress recalls her mom saying. "I'm so thankful for her openness on this predominantly silent subject because later, when I was in college, that time did come."
Bell says she suffered from depression while attending NYU, even though there was "no logical reason" for her to feel the way she did. She sought help, thanks to her mom's loving words, but still she didn't discuss her depression publicly for almost 15 years. What changed? Bell says she wants more people to know what depression actually looks like, and that it should be treated with the same level of seriousness and respect we give to any other illness.
"For me, depression is not sadness," writes Bell. "It's not having a bad day and needing a hug. It gave me a complete and utter sense of isolation and loneliness. Its debilitation was all-consuming, and it shut down my mental circuit board. I felt worthless, like I had nothing to offer, like I was a failure."
[shareable_quote]"Mental health check-ins should be as routine as going to the doctor or the dentist," says Bell.[/shareable_quote]
I can relate so much to what Bell is saying, because that's how depression feels for me too. Before I understood what depression was, I thought it meant walking around in sweatpants and feeling sad all the time. I didn't realize that abject loneliness, the feeling that none of my accomplishments were good enough, the belief that I was a "lost cause" — those were all the real signs of depression. And I wish I'd known that, I wish someone had explained that so I could've gotten help sooner.
"Mental health check-ins should be as routine as going to the doctor or the dentist," Bell says. "If you tell a friend that you are sick, his first response is likely, 'You should get that checked out by a doctor.' Yet if you tell a friend you're feeling depressed, he will be scared or reluctant to give you that same advice. You know what? I'm over it."
Depression is hard to talk about because the condition makes you believe that no one cares what you're going through, and no one will be able to help or understand. But the more we talk about our struggles with depression, the more others feel empowered to speak out, to seek help, and the more people understand what depression actually looks and feels like.
Suffering in silence doesn't make the problem go away, and it doesn't bring you any closer to getting better. The only way to heal and to improve outcomes for both ourselves and others with depression is to keep the conversation going. As Bell writes in her essay, "There's nothing weak about struggling with mental illness. You're just having a harder time living in your brain than other people… Talking about how you're feeling is the first step to helping yourself."
This article was originally published on