Kristen Bell's Wearing A Costume Picked By Her 4-Year-Old And She's Not Thrilled
by Julie Scagell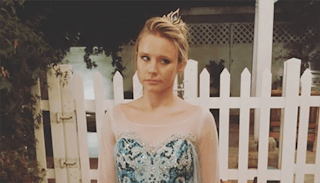 Image via Instagram
Anna will not be feeling the love this Halloween
When it comes to our kids' Halloween costumes, we usually have maybe two or three years to dress them up as whatever we want them to be. But it doesn't take long before they have ideas of their own and as Kristen Bell found out, we must grin and bear it.
The singer and actress posted a hilarious picture on Instagram yesterday. Apparently in addition to selecting her own costume, her daughter decided on her mom's Halloween outfit as well. And it's a pretty sick burn for a preschooler.
"When your daughter demands you BOTH be ELSA for Halloween…you GRIN AND FORKING BEAR IT," she wrote. This would be adorable except for the small fact that Bell voiced Elsa's sister, Anna, in the Disney hit movie Frozen.
Bell has two daughters with husband Dax Shepard, Lincoln, four, and Delta, two, so it's unclear which one decided Elsa was the cooler sister, but my bet's on Lincoln – because that sounds about like what a four-year-old would do.
If Lincoln is the culprit, she's come a long way since first being introduced to her mom's movie. "I put it on for her, thinking it was going to blow her mind," Bell told E! Entertainment last year. "And she like 15 minutes in was like, 'Turn this off, I don't like this movie.'" She said her daughter did recognize her voice but, "She could care less. It was too scary for her, I think. She keeps my ego in check. But it was too dark, the scene where Anna gets struck and then they go to the trolls and it takes place at night."
That could have been it. Or she's like every other three-year-old and couldn't care less who or what her parents do for a living.
Bell is one that seems to have this parenting thing nailed. When asked to divulge the most embarrassing thing her kids have ever done (and we know all parents have a list a mile long), Bell said, "If my child is acting a fool in the grocery store, the embarrassment is on her," The Good Place star explains. "She's going to act the way a child acts, and I'm not going to let that reflect on me or bring me down. That shouldn't make me feel ashamed or embarrassed in any way."
Amen to that.
And if Frozen isn't impressive enough, Bell should also remind her kids about the time she entertained hurricane victims in Florida during Harvey, even saving fellow Frozen co-star Josh Gad's parents while she was there.
Here's hoping one day her kids give Anna the respect she deserves. Until then, it looks like Bell is going to have to let this one go.
This article was originally published on