This Viral Review Of A 'Facial Slimmer' Will Make You Laugh So Hard You Cry
by Valerie Williams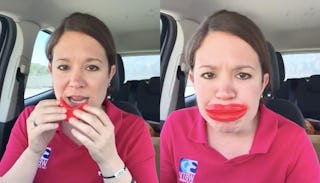 Image via Facebook/Kristen Hampton
A reporter's hilarious review of a ridiculous "facial slimmer" went viral
Is there no end to what us gals will try to look more youthful and lovely? The sheer number of products in my bathroom cabinet is beyond the realm of normal and acceptable, yet, I won't part with a single thing. And now that I've seen this reporter's hilarious video testing out a Facial Slimmer Exercise Mouthpiece, I might need to add that to my insane collection of anti-aging shit. Once I've stopped laughing long enough to order one, that is.
Kristen Hampton, a reporter with WBTV in Charlotte, is no stranger to going viral. Last year, over six million people watched her try a product called the 3-Second Brow. And now? Over nine million (so far) have died laughing at her demonstration of the Facial Slimmer Exercise Mouthpiece, a beauty product so ridiculous we can't believe it even exists. Oh, but it does.
Dear god.
Hampton explains that the item came with no directions, just looking like "a clown mouth." It purports to slim "fat mouth," as she puts it. Those lovely "jowls" we'd all love to get rid of. But at what cost? Look at that model in the photo. Shudder.
She dives right in, shoving the slimmer, which is made of "silicone and lots of toxic, poisonous chemicals," right into her mouth. Because, "beauty first…beauty before health," she says. Obviously.
"I feel it really working this right here," she says, struggling to speak with it in her mouth. "Sorry, it makes you slobber." And her trying to say "slobber" may finish you off right then and there. I am in tears.
"Just three minutes per day is all you need," says Hampton. "Sorry, it makes you slobber. I'm trying to say P-O-P. Pop in the mold and make mouth movements. One thing I have discovered already is it is very hard to make certain sounds with."
As she wipes away the drool that keeps building up, she starts cracking herself up, which further cracks me up. I mean, look at her.
"I'll have to keep this thing in for several hours, not just three minutes," she says, while evaluating her progress.
"I think some slime just fell out, oh my god that's disgusting." Maybe, but we're only laughing ourselves breathless.
After several minutes of making the facial movements, trying to pronounce words, drooling all over the place, and tapping on her chin and face area to point out her "flaws," she takes it out and checks the results. She also notes that you too can get this "youthful look" for the low, low price of $4.99, and along with Prime's free shipping, that's a hell of a deal.
"It's slimmed down already, look. It's not even there anymore. WOW. Just kidding," she quips. Hampton reads one person's helpful comment out loud. "Hope it helps your jowls…thank you, Janice. Cause those bad boys need some work."
"You too can have your face slimmed down if it's too big," she signs off hopefully. But Hampton says she's going to try this terrible thing a bit longer before she rates it. Godspeed, my friend.
This article was originally published on