Kristen Stewart Says Eff This To Cannes' Unspoken 'High Heel Rule' For Women
by Valerie Williams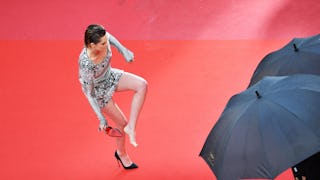 Image via Stephane Cardinale - Corbis/Corbis via Getty Images
Kristen Stewart removed her high heels on the Cannes red carpet
At the Cannes Film Festival on Monday, actress Kristen Stewart made a fashion move that might've been a bit puzzling to some. After posing for photos, she removed her sky-high Louboutin heels and continued into the festival, where she was a jury member. As it turns out, the festival has a "no flats" policy that it appears Stewart may have been rebelling against.
If so, hell yes to that.
She started off her red carpet walk in (extremely high) heels and after a little while, decided to doff them.
Annnnd here she is taking them off.
Not one care given.
She ascended the stairs into the festival to view the film BlackKkKlansman totally barefoot.
Variety reports that the red carpet was a little wet on Monday, so it's possible Stewart took off her shoes to get better footing on the soggy stairs. While there's no official comment from the actress on the reason she ditched the heels, remarks she made to The Hollywood Reporter during a roundtable last year about the shoe rules are a pretty strong hint to where her head was at.
"There's definitely a distinct dress code, right?" she said. "People get very upset if you don't wear heels or whatever. I feel like you can't ask people that any more — it's a given. If you're not asking guys to wear heels and a dress, you cannot ask me either."
"Things have to change immediately," she said. "It has become really obvious that if [a man and I] were walking the red carpet together and someone stopped me and said, 'Excuse me, young lady, you're not wearing heels. You cannot come in.' Then I'm going to say, 'Neither is my friend. Does he have to wear heels?' It can work both ways. It's just like you simply cannot ask me to do something that you are not asking him. I get the black-tie thing but you should be able to do either version—flats or heels."
Sounds good to me. It's hard to come up with a reason why women have to wear heels as opposed to flats when there are plenty of sparkly and formal shoes that would be within a black tie dress code without high heels attached. Feels a bit gross and sexist to force a woman to wear uncomfortable heels against her wishes, to be honest.
Stewart is actually not the only actress to take to the Cannes red carpet barefoot — Julia Roberts did it in 2016.
Seems like a good thing to do is just let women live and decide on their own what shoes to wear, no matter the occasion. It's 2018, AKA, long past time for this kind of sexist garbage to end. Kudos to Stewart (and Roberts) for taking a barefoot stand.
This article was originally published on