Kristen Wiig's New Women-Led Comedy Pulls Out Of Georgia After Abortion Ban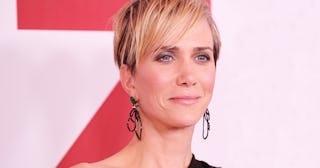 Jason LaVeris/Getty
Georgia recently passed the 'heartbeat' bill banning abortions after a heartbeat is detected
There has been much backlash since Georgia signed the "heartbeat bill," which would prohibit abortion as soon as a heartbeat is detected. One way to make voices heard loud and clear is to hit the state financially, which is what many actors and directors are doing to ensure legislators understand the chain reaction their votes have caused.
One such example is Kristen Wiig and Oscar nominee Annie Mumolo, whose new comedy, Barb and Star Go to Vista Del Mar, a Lionsgate movie (the same production company that funded the cult-classic Bridesmaids) was planning to film in Georgia. This particular film opting out of giving the state business is particularly noteworthy, as it's led by women and about women. It sends a message that their priorities are centered around women being treated as actual human beings with rights — imagine that.
According to Variety, the comedy is about two best friends from the Midwest who take their first ever vacation together to Florida and a series of mishaps leave them tangled in a web of adventure, love, and murder (as you do). Wiig is a co-writer for the project and stars alongside Mumolo, but the company is now in need of a new place to film as they've decided to leave the state after the bill was passed.
Georgia is one of a handful of states that have either passed or are considering laws that would ban abortion as soon as physicians can detect a heartbeat (typically as early as six weeks), which is oftentimes before a woman knows they are pregnant. Georgia Governor Brian Kemp signed the bill in early May.
Georgia isn't the only state likely affected by reaction to the horrifying abortion bills being passed in states like Alabama, Louisiana, and South Carolina, which will also be financially impacted. What once was a "California-only" movie scene has moved into small towns and cities all over the U.S which may now see a drastic shift in the economy for being on the wrong side of history.
According to TIME, Georgia has a 30 percent tax rebate for film and TV production, which has made the state as a prime location for movie shoots, contributing an estimated 92,000 jobs. Wiig isn't alone. Actors like Jason Bateman, Alec Baldwin, and Amy Schumer have also pledged to leave the state if the bill passes, which could be as soon as January 2019.
Georgia Governor Brian Kemp had some words about the ban, calling out "C-list celebrities" who have threatened to boycott all filming if the bill goes into effect. "I understand that some folks don't like this new law. I'm fine with that," Kemp, a Republican, said. "We're elected to do what's right – and standing up for precious life is always the right thing to do," he continued.
"We are the party of freedom and opportunity. We value and protect innocent life — even though that makes C-list celebrities squawk." Not sure how filmmakers like David Simon, Sean Penn, and Ron Howard, who've signed the petition, would feel about being called "C-list" anything, but I'm fairly certain Kemp isn't doing himself, or the state (OR WOMEN) any favors.
Other producers like J.J Abrams, Peter Chernin, and Imagine Entertainment have said their salaries and any donations they receive will go to charities like the Georgia chapter of the ACLU to help fight against anti-abortion legislation while they remain in Georgia finishing productions.
"We saw whole sectors saved—from florists to caterers to carpenters to electricians," Chris Escobar, the executive director of the Atlanta Film Society, said. "No matter what side of the political spectrum you're on, the film industry is the one thing everyone is on the same page about."
This article was originally published on