Kristen Wiig 'Sits On The Curb' To Escape Her Kids & It's Relatable AF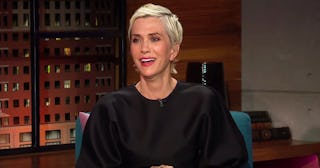 The Late Late Show with James Corden/Youtube
Wiig is every mom trying to make it through the pandemic with kids
Kristen Wiig is all of us trying to take one minute for ourselves after being at home with our kids 24×7 during the pandemic. The actor dropped by The Late Late Show with James Corden and opened up about life as the mother of twins — a life that sometimes involves going outside to sit on the curb.
Wiig and husband Avi Rothman welcomed twins, Luna and Shiloh, via surrogate in June 2020 and have been home with them nearly full-time since. She and her Barb & Star Go to Vista Del Mar costar Annie Mumolo dished about parenting during the pandemic, and we can all relate honestly.
"How is it? Do you ever get a break?" father-of-three Corden asked. "Um, I go outside and sit on the curb sometimes," Wiig responded with a laugh. "Because I'm afraid, I don't wanna go on a full walk because then sometimes I feel like, 'Oh, I should be there.' But I need to get out, so I sit on the curb. Or just walk around in the driveway and FaceTime Annie."
Mumolo added: "It feels like a vacation when you just go out the door." It does. It really does.
Wiig opened up about her journey to motherhood and IVF last year, saying in part, "We've sort of been quarantining since January because of the babies. We're nesting, and we're tired," Wiig said. "Having two 9-month-olds is a lot! But they're growing, and I can't wait to see them every morning. It's not all just lying around and smiling at babies, though. It's overwhelming to think about everyone else who's struggling, and it's hard to be good knowing that."
The notoriously private comedian also said being able to finally talk about her IVF and surrogacy helped her. "We tried to keep the [surrogacy] process private for as long as possible, because it is a very private thing. Unfortunately, we were photographed with them — and, well, it's out there! As private as I am and as sacred as this all is, what helped me was reading about other women who went through it and talking to those who have gone through IVF and fertility stuff," she said. "It can be the most isolating experience."
This year has been challenging (unbearable) for most working parents. Having even a small break between work, homeschooling, and the general anxiety a worldwide pandemic brings is sometimes the only thing holding us together. "You forget," Wiig joked, "a walk really helps. But then when you're in the house, you're like, 'I can't be saved.'
Truer words have never been spoken.