Photos Of 5-Year-Old Comforting His Exhausted Gold-Winning Mom Will Slay You
by Valerie Williams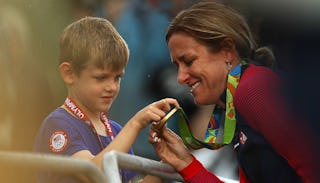 Image via Bryn Lennon/Getty Images
Kristen Armstrong collapsed after winning gold and her son ran to her side
Olympic cyclist Kristin Armstrong won gold in the women's cycling road individual time trial this past Wednesday. It as a hard-won race and she wasn't feeling well by the end, collapsing onto the road. It was her 5-year-old son that ran to be by her side and the photos of the two have captured hearts all over the world.
According to The Huffington Post, Armstrong's gold medal was her third having won the race in 2008 and 2012. She took a 3-year break for multiple hip surgeries and the 43-year-old came back determined to win in Rio. With Russia's Olga Zabelinskaya close behind, Armstrong gave it her all. It paid off with Zabelinskaya coming in six seconds after her gold-winning finish.
However, at the start of the race, blood could be seen coming out of Armstrong's nose, but she pressed on. It was evident she truly wasn't feeling well when after her finish, she asked if she won and after finding out she did, she collapsed to the ground.
After being examined by medical personnel and given the all-clear, it was her son Lucas that rushed to her side. The mom embraced the little boy as tears ran down her cheeks. The photos are enough to give any parent chills. Her accomplishment was for her, but her pride in sharing it with Lucas is obvious to anyone with eyes.
She told KTBV News her feelings on the win. "It's a historical moment in sport for women in the Summer Games, for the U.S. That last 5K I knew it was close, and my coach behind me said 'you better decide what color medal you want today.'"
Obviously, she decided on gold. Congratulations to Armstrong for her incredible win.
This article was originally published on