Kristin Cavallari Calls Herself A 'Single Mom,' Moms Of The Internet LOL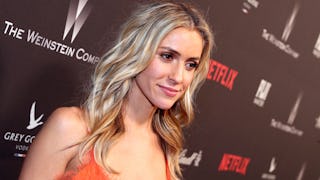 Image via Jonathan Leibson/Getty Images for FIJI Water
Single moms had something to say to Cavallari on the topic
Kristin Cavallari is used to being in the spotlight. She famously caused mucho drama during her stint on the reality shows Laguna Beach and The Hills and has since made an appearance on Dancing with the Stars along with a few other TV shows. She's also married to NFL quarterback Jay Culter, with whom she has three children.
Cutler just signed a one-year, $10 million deal to play for the Miami Dolphins, which means he will be away from the fam for five months during the season. Cavallari talked about what this means for their family during a recent Facebook Live interview with Entertainment Tonight where she made headlines again – for calling herself a "single parent."
Cavallari is currently living in Nashville with the couple's three children — five-year-old Camden, three-year-old Jaxon and one-year-old Saylor. During her interview, Cavallari talked about living apart during this football season when her husband is in Florida with the Dolphins.
"We just moved there, actually, a few months ago, full time," Cavallari said. "And both my boys are in school. It doesn't make sense to pack up the family just for five months," she explained. "So, I'm a single parent for the next five months. It's a little chaotic but in the best way."
Moms of the internet did not take kindly to Cavallari labeling herself as a single parent. And there were plenty of single parents who decided to remind Cavallari just exactly what being a single parent is really like:
"My kids are great," Cavallari continued. "They're good kids for the most part. Of course we have our stuff, but it actually hasn't been as hard as I thought it was going to be, being a single parent. AND I have an amazing nanny. My mother-in-law is there with my kids right now, so I couldn't do it without them."
Cavallari may have been kidding and we're certain it is difficult, no matter how much money they have, to be responsible for her kids and not have her spouse available to lean on. But she probably shouldn't be surprised when women who are doing this solo with no nannies or celeb bank accounts to fall back on take offense to her co-opting the label.
This article was originally published on