Kumail Nanjiani Is Being Body Shamed For Working Out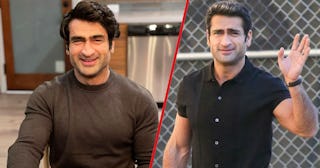 Kumail Nanjianiand BG017/Bauer-Griffin/Getty
Kumail Nanjiani has been open about his difficult journey to get fit for Marvel's Eternals, but that didn't stop people from body shaming him for it
Have we mentioned how excited we are for Kumail Nanjiani to star in Marvel's upcoming movie, Eternals? We're super here for more BIPOC actors in, well, everything, so this particular casting decision (in this particular, very white franchise) has us ready for the new movie.
And just like so many actors before him, Nanjiani has been preparing for the role by undergoing a complete body transformation. To put it in just a few words, he got jacked. He absolutely looks the part of a Marvel superhero these days, as you can see from this holiday photo he shared over the weekend (which is far from the most thirst-trapping photo he's shared during his transformation, but that's beside the point). Even in a long-sleeve shirt, it's pretty clear the guy is all muscle. He looks great.
However, because this is the internet and no one can have nice things, not everyone agreed, and some trolls took to the comments to body shame Nanjiani. For working out and looking healthy and strong. Yeah, we don't get it either.
In particular, there were a lot of people claiming that steroid use must be responsible for Nanjiani's transformation.
There are a number of problems with this. The first one is, of course, that body shaming is tacky and we're over it. But social media users have also been pointing out a bigger, more sinister issue with all the negative chatter surround Nanjiani and his body: No one bats an eye when a white actor bulks up for a role, but now that a South Asian actor is doing the same, people are shaming him for it.
One user compared Nanjiani's treatment to similar body shaming that Chadwick Boseman received, when no one knew that he was battling cancer.
Nanjiani, to his credit, has been extremely honest about the changes he's made to his body. When he revealed his newly muscular physique for the first time last year, he was open about the fact that it wouldn't have been possible without a huge movie studio paying for his nutrition, training, and all the time it took to get that strong.
"I would not have been able to do this if I didn't have a full year with the best trainers and nutritionists paid for by the biggest studio in the world," he wrote. "I'm glad I look like this, but I also understand why I never did before. It would have been impossible without these resources and time."