This Harry Potter-Themed Classroom Is The Most Magical Thing You'll See Today
by Sarah Hosseini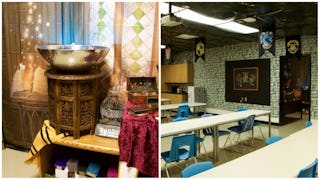 Image via Kyle Hubler
Oregon teacher spends 70 hours setting up epic Harry Potter classroom for his students
Hogwarts or Hillsboro? A middle school teacher in Oregon is giving everyone major magical vibes with his Harry Potter themed classroom. It is so epic, you'd probably be willing to re-endure pimples, algebra, and teenage angst just to go back to school and sit in this classroom.
Kyle Hubler's classroom at Evergreen Middle School is truly awe-inspiring. The seventh and eighth grade teacher decked out his student's learning space with so many HP treasures it would take you weeks to discover them all. The entrance is modeled after platform 9 3/4 in none other than King's Cross Station.
Open the door, and behold the coolest classroom you've ever seen.
Before the 2017-2018 school year Hubler found out he was being moved to a new classroom after four years in the old one. Instead of simply boxing things up and moving them over he took the opportunity to transform his new blank canvas into something truly remarkable.
While Hubler doesn't exactly teach Potions, per se, his desk area looks like something that would make Professor Snape jealous.
"I wanted to give my students something that would get them excited to come to school. I wanted them to feel that my class is a place they actually WANT to be and have fun learning in," Hubler tells Scary Mommy.
"My number one priority as a teacher is to connect with my students to make sure they understand that someone at school cares about them. If they know that I care about them then they are a lot more likely to care what I have to teach them."
Hubler spent over 70 hours during a five week time frame buying items and supplies from hardware stores and secondhand shops. The big reveal to his students certainly made it worth it. He unveiled the classroom on the first day of school.
"I heard audible gasps and saw jaws drop to the floor," he tells HuffPost. "They were scrambling around the room to inspect every little detail and were excitedly showing their peers what they discovered."
It may take his students awhile to discover all of the treasures, to be honest. Hubler has been collecting Harry Potter memorabilia since he was in middle school.
By the beard of Dumbledore, this classroom even comes with its own Pensieve! Hubler's students better hang onto their memories.
Hubler's passion for all things Harry Potter stems from way back.
"I love Harry Potter because of the impact it had on me as a kid. Being a kid can be tough sometimes ― there were times when I felt weird and that I didn't belong to any circle of friends, and reading the books was a way to escape that and feel like I did belong," Hubler told the Huffington Post.
"As I grew up, I became more skilled in socializing and developed stronger connections with friends, but the lessons in the books about acceptance, loyalty, and integrity stayed with me and inform a lot of the philosophy I have in my approach to teaching and how I interact with my students," he added.
His love for Harry Potter is creating a bridge between him and his students. A magical mode of connection, if you will. It's clear that his connection with his students is bigger than them. The whole internet is taking joy in his creation and ideas about how to reach and teach children. In a now viral Facebook post Hubler shared photos of his masterpiece as well as a video tour of the classroom.
Huber isn't just teaching his students, he's teaching us something important as well. You truly can bring the fantasy to real life. He tells the Huffington Post when he was a kid, his "biggest dream" was to go to Hogwarts someday. Since he couldn't actually go there, he brought his dream to his classroom instead.
"When I became a teacher and started talking to my students about their dreams I realized that I had the power to make my childhood wish come true. It wasn't necessarily in the way I imagined as a kid, but it still feels like I made my 12-year-old self proud and fulfilled that kids dream," he adds.
"I want my students to feel like they can achieve their dreams as well, no matter how big or magical."