Judge In Kyle Rittenhouse Trial Says People He Shot Can't Be Called 'Victims'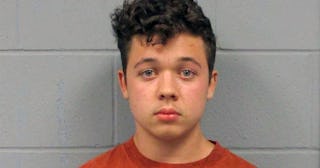 Uncredited/AP/Shutterstock
The judge in Kyle Rittenhouse's murder trial ruled that the two people he killed cannot be called "victims" because the term is too loaded. However, he said they can be called "rioters" or "looters"
With Kyle Rittenhouse about to stand trial for murder, attempted murder, and other charges, the court proceedings are already expected to be contentious. That's especially true after the judge in the case, Circuit Judge Bruce Schroeder, ruled that the two men Rittenhouse shot and killed cannot be referred to as "victims" during the trial, because that term is too "loaded." They can, however, be called "rioters," "looters," and "arsonists," the judge said.
According to The Chicago Tribune, Rittenhouse admits to shooting Joseph Rosenbaum and Anthony Huber, who were killed, and Gaige Grosskreutz, who was wounded, in downtown Kenosha, Wisconsin last August. Rittenhouse crossed state lines with an AR-15 rifle during protests sparked by the death of Jacob Blake, a Black man who was killed by a white police officer. Rittenhouse was part of a group of armed men who tasked themselves with patrolling the streets during the protests, and says that he shot all three men in self-defense. He's charged with homicide, attempted homicide, and being a minor in possession of a firearm.
Judge Schroeder laid down the final ground rules for the upcoming trial during a hearing on Monday, where he said he advised Rittenhouse's defense team against using pejorative terms about the men he killed, but that they could "demonize them if he wants, if he thinks it will win points with the jury."
"If more than one of them were engaged in arson, rioting, looting, I'm not going to tell the defense you can't call them that," Schroeder continued. He also added that he will not allow the men to be called "victims."
"The word 'victim' is a loaded, loaded word," he said. "'Alleged victim' is a cousin to it." Assistant District Attorney Thomas Binger argues, "The terms that I'm identifying here such as rioter, looter and arsonist are as loaded, if not more loaded, than the term victim."
These kinds of rulings aren't uncommon in trials where there's a dispute over self-defense, but prosecutors say the judge is employing a double standard by allowed the loaded terms "rioters," "looters," and "arsonists," but not "victim." This is especially true, the say, because Rosenbaum and Huber, the two men killed, will never have the chance to defend themselves. Grosskreutz, the man who was wounded but survived, has not been charged with any crime from that night.
Kyle Rittenhouse's trial begins next week, on Nov. 1.