Kylie Jenner Shuts Down Pregnancy Rumors With Birth Announcement Video
by Megan Zander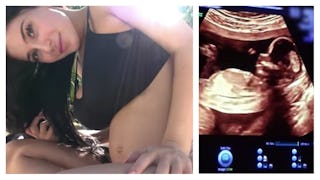 Image via YouTube
Kylie Jenner welcomes a baby girl
After months of internet speculation, Kylie Jenner announced the birth of her daughter with boyfriend Travis Scott on Sunday, along with a video sharing intimate moments throughout her pregnancy. The little girl arrived on February 1 at 4:43 pm, weighing 8 lbs., 9 oz.
She shared the video with an Instagram post explaining her decision to keep her pregnancy out of the spotlight.
"I'm sorry for keeping you in the dark through all the assumptions," she wrote. "I understand you're used to me bringing you along on all my journeys. My pregnancy was one I chose not to do in front of the world."
She explained that her decision wasn't about expanding her brand or done as a ratings stunt, but rather a choice she made for her own wellbeing and for that of her unborn child. "I knew for myself I needed to prepare for this role of a lifetime in the most positive, stress free, and healthy way I knew how. There was no gotcha moment, no big paid reveal I had planned. I knew my baby would feel every stress and every emotion so I chose to do it this way for my little life and our happiness," she said.
In the video montage, To Our Daughter, we see how she and Scott were just like any excited parents-to-be during this pregnancy.
The video features lots of sweet moments, including Jenner and her sister Khloe comparing their growing bumps:
The video shows Jenner experiencing the same pregnancy highlights as all of us. She takes photos of her growing bump in the mirror:
She shares an ultrasound moment…
Practices her baby holding skills on new niece Chicago West…
…and debates whether or not she wants cheese fries (yes, the answer is always yes). She's just like any other pregnant woman — but with better lipstick.
Celebrity or not, making assumptions about whether a woman's womb is currently occupied is never cool. Yet rumors that Jenner was expecting alongside sisters Khloe and Kim have been swirling for months. Any social media post, paparazzi photo or even ad featuring Jenner became fodder for people to overanalyze, looking for signs of a baby bump she had yet to confirm herself. The scrutiny our society places on women is so uncalled for, and all the high-fives to Jenner to sticking to her vision for what she wanted her pregnancy to be.
As the video shows, Jenner didn't hide her pregnancy from friends and family. In fact, her squad details exactly how she shared the news and why they think she's going to be such a good mom. Lots of medical staff knew of her pregnancy too, as well as Tyler Ross' team who directed the video. Yet everyone respected her wishes and kept quiet, allowing her to share the news in her own way and time.
Many first time moms worry about making mistakes, but eventually you learn that trusting your instinct is usually always the right call. But by doing what was right for her in keeping her pregnancy private, Jenner's showing us that her mom game is already super strong.