The Internet's Not Happy With Kylie Jenner For Throwing A 'Handmaid's Tale' Party
by Julie Scagell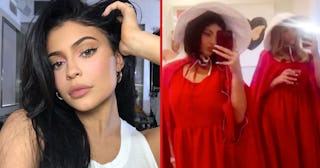 Kylie Jenner/Instagram
Kylie threw a 'Handmaids' bash for her BFF's birthday and not everyone's loving it
Over the weekend, Kylie Jenner threw a birthday party for one of her BFF's, which is very nice of her except that the party was based on her favorite show, The Handmaid's Tale, which left a bad taste in many people's mouths when she posted about it on social media.
Jenner shared pictures of the party on Instagram with a caption reading: "You know The Handmaid's Tale is my favorite show ever…so for Stassi's birthday…welcome to Gilead." The video showed her Hidden Hills house draped with Gilead flags and wait staff dressed as Marthas. Partygoers wore handmaid's costumes and can be heard saying "Praise be." The party was to honor pal Anastasia "Stassie" Karanikolaou's birthday.
People were (understandably) a bit miffed given the myriad women's rights at risk and continuing discussions over women's body autonomy:
https://twitter.com/jetpack/status/1137919627646951425
Jenner is probably used to getting publicly shamed for her decision-making. Being a mom is open season for unsolicited advice from strangers, but being a celebrity mom has to be a million times worse because everything, and I mean everything, she does is under a microscope. She got trolled for piercing daughter Stormi's ears when she was just a baby and then again when she dared to leave her to go to Coachella, because moms should never leave their child with another loving adult to enjoy themselves.
Though a Handmaid's party is arguably pretty tone deaf, Jenner has been outspoken against the recent abortion restrictions, saying it "made her sick." Her boyfriend, Travis Scott, even donated proceeds from his merchandise at an Alabama music festival to Planned Parenthood organizations, both using their public platforms to bring attention to what is happening in our country.
People at the party were given "Under His Eye Tequila" and "Praise Be Vodka" cocktails, Jenner's home transformed into the fictional setting of Margaret Atwood's dystopian novel. In the novel, Gilead is ruled by a fundamentalist regime that treats women as property of the state, are forcibly raped and made to bear children, and have those children taken from them and given to other families.
Many have made comparisons to the Trump administration's attempt to rule over a Handmaid-like society: Alabama lawmakers voted to ban abortions in the state with other states passing similar "heartbeat bill" legislation; The Trump administration has defunded Planned Parenthood — an institution many women rely on to provide birth control and healthcare, and banning the Centers for Disease Control and Prevention (CDC) from using the word "fetus" (as well as "transgender" and "science-based"), to name a few.
Given the many attacks on women's rights happening in the U.S. right now, her choice of a Handmaid's theme may have been a miss.
This article was originally published on