Kylie Jenner Pierced Her Daughter's Ears And People Are Freaking Out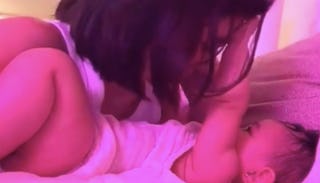 Image via Instagram/Kylie Jenner
The appropriate age to pierce your kid's ears is whenever a parent says it is
Kylie Jenner is used to holding her own in the court of public opinion. As with most famous people, she endures being talked about and hearing unsolicited advice from strangers. Being a celebrity and a mom, you just know that shit goes into overdrive, so when she showed off baby Stormi's pierced ears, the internet obviously lost it's marbles.
The doting mom shared an adorable video on her Instagram SnapChat page showing her perched over her five-month-old daughter while Stormi pulled at her hair. Jenner gave her sweet cheek kisses and the whole thing basically makes anyone watching it want to have another baby. Immediately.
But instead of just leaving it as a sweet moment between mom and child, people noticed the little girl's ears, which had tiny stud earrings in them, and just had to make their feelings known:
https://twitter.com/jetpack/status/1017266126038986752
Piercing your baby's ears — like any other decision you make for your child — is up to each individual parent. If a person doesn't like for a baby to have pierced ears, then that person shouldn't pierce their baby's ears. No one needs their opinion on the matter because, frankly, it's irrelevant.
Some folks did jump to Jenner's defense, pointing out that in many countries and cultures, ear piercing is done as young as days old. In Spain and Latin America, it's common to pierce girls' ears moments or days after birth because it's believed to be more painful for the child if they wait until they're older.
The American Academy of Pediatrics (AAP) says there's little risk at any age if the piercing is done by a professional and cared for well, though they do say to it's best to wait until the child is old enough to care for them on their own. But the bottom line is, parents know what's best for their kids. Period.
Jenner's also been in the news this week after a Forbes cover announced that she may become the youngest-ever "self-made" billionaire in history, thanks to her uber-successful Kylie Cosmetics company. How about we leave the headlines for this kind of achievement rather than shaming a new mom for a decision she makes for her child?
This article was originally published on