Kylie Jenner Is Being Shamed For Stormi's $12,000 Hermes Backpack
by Christina Marfice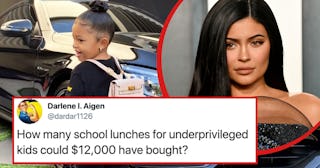 Kylie Jenner/Instagram, dardar1126/Twitter and Frazer Harrison/Getty
The internet has some feelings about the $12,000 backpack Kylie Jenner picked out for Stormi's first day of school
Kylie Jenner's two-year-old daughter, Stormi, is clearly a kid with expensive tastes. I mean, how could she not be? Her mom is a reality TV star, a makeup mogul and one of the most major influencers in the world. She might be a billionaire, and if she's not, she's really close. She likes clothes and makeup, and seems to have passed on those hobbies to her adorable kid. And so, when she sent Stormi off for her first day of school, she made sure the kid went in style.
Jenner shared a video of a very excited Stormi jumping up and down in the driveway as she prepared to go to her first day of school — home school, that is, because there's still a pandemic going on. The sweet kiddo was all smiles in a black T-shirt, black shorts, white sneakers, and a baby pink backpack.
https://www.instagram.com/p/CFxb1qqnFUC/?utm_source=ig_embed&utm_campaign=embed_video_watch_again
But upon closer inspection of that backpack, the internet noticed something. Did Kylie Jenner send her two-year-old to home school with a $12,000 Hermes backpack? Yes. Yes she did.
We should expect nothing less, TBH. Like, of course Kylie freaking Jenner gave her toddler a backpack made by the same folks who bring the rich and famous their Birkin bags. But that didn't stop some regular people from feeling some kind of way over it.
People were quick to point out that it's a good thing Stormi is going to home school, because it should be illegal for a toddler to flex on her peers that hard.
Others were comparing the kind of backpack Kylie Jenner picks out for a kid to the backpacks they wore on their own first days of school, and, well, they're both pink?
Still more folks wondered why Stormi even needed a backpack, since she's literally going to school at home. We can't help but wonder what's in there. My guess? Lip kits with a total value that surpasses my rent.
And of course, the internet being what it is, many comments were decidedly shame-y.
https://twitter.com/jetpack/status/1311445008638267393https://twitter.com/jetpack/status/1311446650347499521https://twitter.com/jetpack/status/1311451456176820225
And while billionaires are gonna billionaire and they should probably just be allowed to live their lives, seeing this probably stings for those who could pay off a nice, big chunk of their student loans with the $12K Jenner spent on that backpack.
But hey. Stormi is adorably excited and you love to see it, so let's just try to focus on that.