Internet Can't Handle Kylie Jenner and 3-Year-Old Stormi's Matching Diamond Rings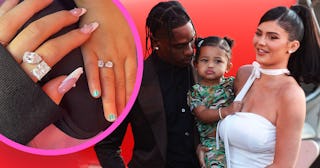 Kylie Jenner/Instagram and Broadimage/Shutterstock
Travis Scott gifts Kylie Jenner and daughter Stormi with matching, over-the-top diamond rings
When thinking of a gift for a three-year-old, what comes to mind? If it's a "diamond larger than most engagement rings" you might be Travis Scott buying stuff for his three-year-old daughter Stormi! Stormi wasn't the only beneficiary as Scott gifted Stormi and her mother Kylie the same rings. My dad would get me stuffed animals from the claw machine, but you do you, Scott-Jenner household!
"Daddy got us matching rings," Kylie captioned the photo of the eye-catching rings. I feel like Stormi's ring is going to end up lost in a pile of playground wood chips in about five seconds, but hey, it's the thought that counts, right?
https://www.instagram.com/p/CVyDZYQphBA/
The overwhelming majority of the comments on the photo are the Instagram comment equivalent of a jaw on the floor.
Even sister Khloe Kardashian wrote, "Daaaaaammmmnnnnn" and "No he did not!!!" Friend of the family, Malika Haqq simply wrote, "Shiiit."
A lot of fans did chime in to remark on how "cute" the matching mommy-daughter rings were, but mostly everyone was just like, "OMG!" To be fair, this is the same toddler who has an entire two-story playhouse in her backyard, so what did we expect, really? For her to NOT have a diamond ring by her fourth birthday? Come on. This is the baby of a billionaire, people!
Elsewhere in Stormi's world, she's about to be a big sister!
Perhaps the rings were a sort of super early push present, a mommy-daughter pre-push-present if you will, because Jenner confirmed in September that she and Scott were expecting baby number two, and unlike Kylie's first pregnancy — which she hid from the public until Stormi was born — the entrepreneur is all about sharing her pregnancy on social media this time around.
https://www.instagram.com/p/CVT6ewZpb0V/
Back in September 2021, Kylie shared a sweet home video that captured the moment when she and Scott learned she was pregnant.
In the video, Stormi is shown telling Kris Jenner that she is getting a baby sibling, there's adorable footage of Stormi kissing her mom's belly, and Kylie is seen going to the doctor with her family.
https://www.instagram.com/p/CTieyGYpYdi/
A source told People last month that Kylie is "so excited about the baby and is having fun decorating a nursery and getting ready for the baby…She and Travis are doing great too. They spend as much time with Stormi as they can. Kylie is convinced that she will be the best big sister."
Word on the street is that Kylie will plan a typical Kardashian-sized and opulent baby shower next month, so get excited for those pics.