Wine Lip Gloss Is A Thing And We Want It In Every Color
by Valerie Williams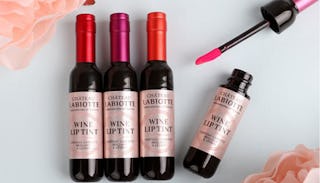 Image via Instagram
Shut up and take our money
Happy holidays, moms! We can almost guarantee you've spent the last month (or three or six if you're one of those people who actually plans) gathering gifts for everyone in your life. So, how about a little reward for all that hard work in the form of beautiful lip glosses and lipsticks made of actual wine?
To be clear, they won't get you buzzed, but they will make you beautiful.
Korean beauty product company Labiotte made a dream come true that we didn't even know we had by creating these gorgeous lipsticks and tints in the shape of tiny wine bottles. If you love wine enough that you want to literally smear it on your face, this is the makeup for you. The items are all made with real wine and the colors are true to vino. First, the lipsticks.
They come in several shades including Cabernet Red (a deep rose, just like cab), Malbec Burgundy, (a purple berry that mimics the violet-y malbec grape), Nebbiolo Red (a true cherry red, just like its grape namesake), and Shiraz Red (a pinkish red.)
Honestly, they're almost too pretty to open.
Allure says though the lipstick is a matte formula, it's not at all drying. But if wine-infused lipstick is a bit much for you, try out the gorgeous lip tints.
They look so real you can practically taste them.
If you're more of a low-maintenance lip balm kind of girl; Labiotte has you covered too.
We can barely handle how adorable these are.
The best part? Most of the products are available on Amazon with some eligible for Prime shipping, so you can wine-ify your pout just in time for the holidays. The items range from $8 to $20, so you won't break the bank with your little splurge.
Now, please excuse us while we clear a whole shelf in our bathroom cabinets to fit every tiny bottle of lip wine we can get our hands on. Hope you find one of them in your stocking this year, even if you have to purchase it and put it there yourself.
This article was originally published on