Mean Girls Star Uses Her Dog For A Pregnancy Announcement Pet Parents Will Love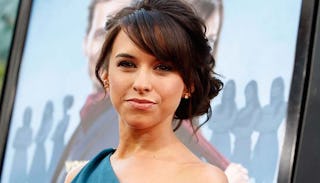 Mean Girls star uses her puppy to make an important announcement
Pregnancy announcements that incorporate an older sibling are relatively common. But what happens if that older sibling isn't human? There are plenty of families in which fur babies are the first babies. It makes perfect, adorable sense to incorporate those "siblings" into pregnancy announcements, too.
Lacey Chabert is pregnant with her first child. Her role as Gretchen Weiner in Mean Girls made her one of the most quotable characters, ever — but you may also remember her as the precocious little sister on the 90's television series, Party of Five. On Saturday, the star posted an adorable announcement on Instagram that will give plenty of fur-parents everywhere some ideas…
"Kitty doesn't seem as excited about this as we are," she writes. Chabert and her husband Dave Nehdar are expecting their first child, er, human child. No one wants to neglect this adorable little pup. "I'm so happy to share the good news that my husband and I are expecting a baby later this year! We are thrilled and so thankful for this blessing."
The puppy does not look too happy to be advertising the fact that an addition to the family is on the way — but it's too adorable. In the words that her Mean Girls character Gretchen Weiner made famous, "This is so fetch." No, we will not stop trying to make fetch happen, ever. Congratulations to the couple. Don't forget to shower your first baby with love before your tiny human gets here.
This article was originally published on