Ladies! Let's Stop Age-Bashing Ourselves In The Online Dressing Room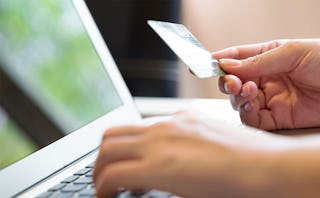 Yup. I've been known to do a bit of online shopping. (Don't judge. No one gets hurt.) In fact, thanks to coupon codes, free shipping and boxes that magically appear on my side stoop, I'd argue that it's just about as a perfect setup as a person who hates malls could get. There's even a group of kind souls who have not only purchased the product first, but are thoughtful enough to post their opinions.
Thanks to these goddess reviewers, I don't even have to worry about sizing. Or fabric. Or wondering if the color will be as vivid in person as it appears on my screen. And for that, I'm grateful. Unfortunately, what these anonymous postings also reveal is how real women feel about aging, as well as their struggles with body image. Draw the curtain back on the virtual dressing room, and that truth? Not pretty.
The proof? In the reviews themselves. Exhibit One (pulled, like all the reviews herein, from the websites of three well-known national retailers):
1. June 26, 2015 by TooLongArms, Columbus, Ohio, Age: 45-54, Gender: Female
I would recommend this if you are into slightly flouncy.
Fit: True-to-Size
When I was younger, this would have fit great but now I have a few bulges here and there and the dress, while a great idea with fantastic material, made me feel a bit pumpkin-esque. It's lined and a really great quality dress. I think it would still be flattering on anybody with a bright, cheerful personality who could work the dress; good looks come down to attitude and this dress has a happy feel to it. Just don't think it fits me at this stage in the game. I love the material, lining, and summer feel of the dress.
Does anyone else want to give this woman a great big hug? Listen, I get it. The fit wasn't great. Been there. Done that. It's not actually the description of the dress that makes me outstandingly sad, but what the writer is really saying about how she feels about herself, and her body. The truth of the matter? No dress should make you pine for your younger self or the body that went with it. Because a) you can't go back, and b) it probably wasn't as great as you remember.
Healthy? No way. But unfortunately, this is far from an isolated incident:
2. May 19, 2015, by Bobbie444 SoCal, Age: Over 65, Gender: Female
Too young
Fit: Fits Small
Not what I expected. I'm much too old (almost 70!) for this style. Cute dress, but too heavy, too stiff, too short, too childish. Too bad.
3. Here's another:
I purchased this top and the bikini bottoms to take with me on a recent trip to St. Kitts. I'm way too old to be a Bond girl but I love the suit (and so did my husband) nevertheless. I used the size charts and ordered an x-small in both pieces and both fit perfectly (5″4, 103 lbs.). The gold is soooo much fun! Highly recommend.
4. And one more:
This little dress has such a simple yet effective design! It is flattering on all shapes. The fabric is solid because of the lining but not stiff or formal. My only wish was that it would have been maybe 1 to 2 inches longer for the "slightly maturing crowd." I wear Capri leggings to get a sophisticated yet modest look. I like!
Listen, I get clothes are a very individual purchase. But please, for the love of God, leave your chronological age, and all of the untrue assumptions dictated by that number, outta the dressing room. Let go of all of the rules that culture has mandated to you about fashion, and more directly about life. The ones that prohibit white after Labor Day, miniskirts after 35 and two-piece swimsuits after 21. Your age has no place here. Or anywhere really. It's all about what makes you feel good, no excuses necessary.
Here's the thing: I've been there. At 30, when an unnamed member of my family gave my bikini-clad body the stink-eye (while my toddler niece said gleefully, "I like your boobie thing. It's blue.") At 42, I sat in the hair salon chair wondering if it was finally time to trim down to a "sensible bob" before my stylist exclaimed unprompted, "I like it long!" And the truth of the matter? So did I! At almost 44, I was trying to decide if this bikini game was up (what is it with us and swimsuits anyway?) before realizing that a Whole Foods diet combined with 60 (painful) days of Brazil Butt Lift will bring you to physical places that your 20s never could.
I get it, ladies. Sometimes things just don't fit. They pucker. They pull. They gape. They're too short, too long, or the hue does not flatter your complexion. But can we please remember this has nothing to do with your personal body, never mind your age.
So, the next time you're kind enough to take a few precious minutes to write a review, so a chick like me doesn't have to go to the store, consult this checklist: Keep it objective. Keep the critical comments to the clothing itself. And most importantly, focus on whether the dress flatters you, not the other way around.
This article was originally published on