Lady Gaga Is Being Body Shamed For Her 'Belly' And The Internet Isn't Having It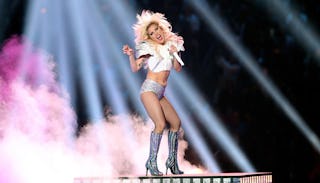 Image via Christopher Polk/Getty Images
Lady Gaga's "belly" lights up social media
Lady Gaga had a kick-ass halftime show at Sunday's Superbowl. But it wasn't the incredibly aerodynamic performance she executed seamlessly that had everyone talking following her performance. It was her belly.
Yup. You read that right.
You may be thinking, "Belly? Lady Gaga? Are we talking about the same person?" — and you would be right to be confused. One of Gaga's outfits had some sparkling boy shorts that were slightly snug around her lower waist. The result — gasp!— a little flesh appeared over the top of them.
She killed it with the bedazzled football pads and hot pants. She commanded the stage and delivered hit after hit. She ran all over the place while managing to hold a tune. And she actually hung suspended over the football field for several minutes before she descended to the stage. Long story short — she was freaking incredible.
You can always count on the internet to ruin a party though. Twitter lit up with people slamming her for her "belly." It should be noted that most of them were men.
Wtf, Gary? Explain yourself.
Says a guy hiding behind a cartoon face.
Says the guy whose avatar is a picture of a race car.
NO, men. Stop.
Unfortunately, this is just how life as a woman is. No matter how incredible you are, there will always be those hell-bent on skewering you if they think you're not meeting some totally unrealistic expectations regarding what the female form should look like. It's utter bullshit, and her fans know this. They quickly came to her defense.
Let it be noted that Lady Gaga once pulled off wearing a dress made entirely of meat. This woman can wear whatever the hell she wants, and look incredible doing it. We love you Gaga, least of all for how beautiful you are. You're brave, you have a full heart, and every inch of you kicks ass.