Lady Gaga And Bradley Cooper Surprise Audience With 'Shallow' And It's Everything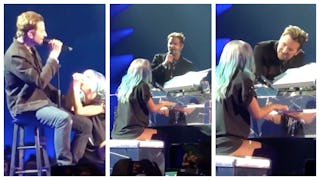 Image via Twitter/Complex Music/Kevin McCarthy
Bradley Cooper and Lady Gaga can't stop, won't stop giving fans a reason to ship them
Unless you've been living under a rock, you know that "Shallow" — the hit Lady Gaga song from A Star is Born — is one of the catchiest, can't-ever-get-it-out-of-your-head, top-requested karaoke songs of the past few months. You either love it or love it, there is no in between.
Well, during her Las Vegas show, Engima, Lady Gaga brought out a very special guest to sing the song with: none other than Bradley Cooper, her co-star in the movie. And it's the Jackson Maine/Ally duet of our dreams.
Listen, the crowd at a Gaga show needs no help in the "let's get revved up" department. But in the video, you can hear the crowd positively explode with glee when they realize Cooper is there to lend his pipes to the song he helped make famous.
SWOON. These two are the absolute best non-couple couple and to say otherwise is blasphemy. And this video proves their on-screen chemistry carries over into their real-life friendship. There's true love and respect there.
Here's the earlier part of the song, where Bradley begins the song and the crowd completely loses it. And I may or may not have started sobbing.
And here's where Cooper agreed to come on stage and Gaga gave a little jig, because there's no such thing as "you've watched this too many times, please put your phone down and get something done" when Bradley Cooper and Lady Gaga are giving us the live version of our favorite on-screen love story.
Obviously, the entire Twitterverse is extremely here for this. I mean, this video literally cured my seasonal affective disorder (for the day).
https://twitter.com/jetpack/status/1089425931477897218https://twitter.com/jetpack/status/1089410986757537798
https://twitter.com/jetpack/status/1089449206429954048https://twitter.com/jetpack/status/1089459634375720960https://twitter.com/jetpack/status/1089408792507359232
Both A Star is Born and "Shallow" are nominated for Oscars, with the latter already winning "Best Original Song" at the Golden Globes and the Critics Choice Awards. Throughout awards season, Gaga has consistently raved about her co-star and friend (will we ever stop shipping these two?)
"Sometimes you just meet someone and you instantly feel like you've known them your whole life," she said during the red carpet for the Critics Choice Awards. "When I met him, I saw an authenticity and love and kindness in his eyes, and he really is a tremendous human being. And he's a brilliant, creative genius."
It's being reported that during the Oscars, only two nominees for "Best Song" will get to perform for the telecast, and "Shallow" is one of them. And yes, both of them have hinted that they'll be performing it together.
"There might be a cool, unorthodox way we could perform it," Cooper told to Variety.
While the film itself is an emotional rollercoaster that brings you to the highest peak of exhilaration only to completely shatter your entire heart, watching Bradley Cooper and Lady Gaga sing each other's praises (literally) is a gift that keeps on giving.
Jackson Maine and Ally FOREVER.