Lady Gaga Explains Why She's Cancelling Tour In Emotional Letter To Fans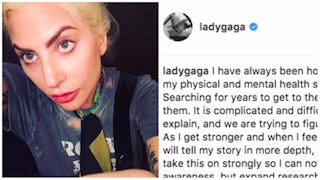 Image via Instagram
Lady Gaga writes a letter to fans about her chronic pain, and need to cancel her tour
Last week, Lady Gaga confirmed in a tweet that she suffers from fibromyalgia. Up until that point, she had been open about her struggles with chronic pain — but never pinpointed the cause publicly.
Her new documentary that premieres on Netflix on September 22, Gaga: Five Foot Two, highlights her struggle with chronic pain and shows how she deals with fibromyalgia, "to help raise awareness and connect with people who have it."
Today, Gaga shared a letter with her fans that explains her decision to postpone her tour, and an official statement about it.
"I have always been honest about my physical and mental health struggles. Searching for years to get to the bottom of them. It is complicated and difficult to explain, and we are trying to figure it out," Gaga wrote. "As I get stronger and when I feel ready, I will tell my story in more depth, and plan to take this on strongly so I can not only raise awareness, but expand research for others who suffer as I do, so I can help make a difference."
https://www.instagram.com/p/BZCB3XIArnF/?taken-by=ladygaga
At a press conference for the premiere of the documentary at the Toronto Film Festival earlier this month, Gaga further explained her need to open up about her chronic pain and struggle with fibromyalgia. "There is an element and a very strong piece of me that believes pain is a microphone," Gaga said. "My pain does me no good unless I transform it into something that is. So I hope people watching it who do struggle with chronic pain know that they're not alone."
And it seems she's already reaching so many who struggle.
https://twitter.com/jetpack/status/907582553070067712https://twitter.com/jetpack/status/907979257825124352
Fibromyalgia is a bone and muscle condition that causes widespread joint and muscle pain and fatigue. "Approximately 10 million Americans (2-4%) have FM with a ratio of about 8 to 2, women over men. It occurs in people of all ages, including children," explains the National Fibromyalgia and Chronic Pain Association. "The literal translation of the word fibromyalgia is pain in the muscles, ligaments and tendons. But FM is much more than pain and presents with many other symptoms that vary from person to person."
"I use the word "suffer" not for pity, or attention, and have been disappointed to see people online suggest that I'm being dramatic, making this up, or playing the victim to get out of touring. If you knew me, you would know this couldn't be further from the truth. I'm a fighter," Gaga continues in her letter to fans. "I use the word suffer not only because trauma and chronic pain have changed my life, but because they are keeping me from living a normal life. They are also keeping me from what I love the most in the world: performing for my fans."
Gaga also included a copy of the official statement of the tour cancellation in her post:
"I am looking forward to touring again soon, but I have to be with my doctors right now so I can be strong and perform for you all for the next 60 years or more. I love you so much."