Lady Gaga's Dog Walker Has Been Shot And Her Dogs Are Missing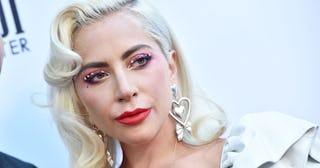 Axelle/Bauer-Griffin/FilmMagic/Getty
Lady Gaga's dog walker was shot while walking her dogs – is in critical condition
Fresh off her critically-acclaimed inauguration performance where she charmed both the Marines and viewers alike, the Star Is Born actress had terrible news last night. An LA Police Department spokesperson told People magazine that a heist happened at 9:40 Wednesday night in Hollywood, the result of which one man was shot and two French bulldogs were taken — Lady Gaga's bulldogs.
The sequence of events sound terrifying. According to AP reports, the victim, whose name has not been disclosed to the media, was out walking with the dogs when a car pulled over and two men tried to take the animals, law enforcement said.
The dog walker tried to fight both of them off and was shot by one of the men brandishing a semiautomatic weapon during the confrontation. It's not yet known if both suspects had guns.
AP Entertainment tweeted that a third dog was able to escape the robbery.
One of Gaga's Little Monsters fan accounts posted a Twitter video of the LAPD rescuing the scared doggo.
Gaga's dog walker was transferred to the hospital and is now in critical condition, a police spokesman confirms. Law enforcement describes the shooter as a male with a semi-automatic handgun, who was seen fleeing in a car going northbound toward Hollywood Boulevard.
The LAPD's robber and homicide division has taken over the situation; it has not yet been made clear if the dogs were targeted because they are owned by the singer.
A spokesperson for Lady Gaga, who is currently in Europe, confirms the victim was the musician's dog walker and the two stolen animals are her French bulldogs, Koji and Gustav.
Back 2016, Gaga revealed to her fans that she'd adopted a new puppy.
"I'm proud to announce we added a new member to the #JOANNE family," the singer shared on Instagram.
"I haven't named him yet but I call him both cowpig and moopig in the meantime!" Gaga said in her post.
She later decided on the name Gustav.
In support of the singer, fans posted pictures and videos of Gaga with the dogs on Twitter.
Another fan posted a video in which Gaga seems to be rehearsing for her Super Bowl performance.
In an interview with People, Tara Bruno, founder of a New Jersey-based rescue organization, says French bulldogs are among the most stolen dog breeds because they're very popular, are small and portable, and are expensive.
French bulldogs from reputable breeders can cost between $3,000 and $5,000, she told the magazine, "The motive is resale. Thieves know they can get a couple thousand dollars for them," she says.
The dog walker is recovering well, according to CNN. Gaga has offered a $500,000 reward for information about her dogs. A Twitter user pointed out that the singer also considers the dog walker a friend and is 'beside herself' about the situation.
Anyone with information about the case should email KojiandGustav@gmail.com, Lady Gaga's rep says.
A few people have taken to Twitter to say what they'd like to do to the suspects of the crime.