Lady Gaga's Dogs Found After Singer Pleads For Their Return On IG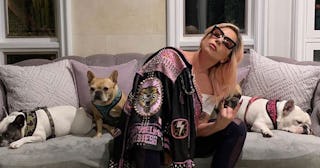 Lady Gaga Instagram
Lady Gaga speaks out after her dogs are taken amid news that her dog walker is expected to make a full recovery
Two nights ago, Lady Gaga's dog walker was shot and her two french bulldogs were taken. On Friday night, February 26, 2021, after news broke that her dog walker is expected to make a full recovery, Gaga shared a series of photos of her sweet doggos Gustav and Koji, writing that she is forever grateful to her dog walker and "praying my family will be whole again with an act of kindness." Just hours after she took to Instagram to plead with the public to return her dogs, an unnamed woman dropped the dogs off at the police station.
Per the AP, an unnamed woman dropped the dogs off to a Los Angeles police station on Friday night, just hours after Gaga broke her silence about her pups. Police say the woman who returned the dogs was likely "uninvolved and unassociated" with their theft and it was unclear how she found them.
"My beloved dogs Koji and Gustav were taken in Hollywood two nights ago," Gaga wrote on Instagram earlier that day. "My heart is sick and I am praying my family will be whole again with an act of kindness."
Gaga previously announced that she would give a $500,000 reward to anyone with information about her pups, saying that "[even] if you bought or found them unknowingly, the reward is the same."
As for Gaga's dog walker Ryan Fischer, who was shot in the chest and left on the streets of Hollywood crying for help, Fischer's family released a statement to TMZ to share that "Ryan is receiving extraordinary care in the hospital right now and his doctors expect him to make a full recovery." The family also shared that "Lady Gaga who has shown nothing but non-stop love and concern for Ryan and our family right from the outset. Ryan loves Gustavo and Koji as much as Lady Gaga does; so we join in her plea for their safe return."
For her part, Gaga thanked Fischer — who is not just her dog walker, but a friend — writing on Instagram: "I continue to love you Ryan Fischer, you risked your life to fight for our family. You're forever a hero.
In a video released by TMZ (trigger warning: it's very disturbing to watch), Fischer fought hard to hold onto Gaga's three dogs as two men attacked him and tried to leave with the pups. After a long struggle as Fischer fought his hardest to protect the dogs, he was shot and the assailants sped away with two of the dogs.
In an interview with People, Tara Bruno, founder of a New Jersey-based rescue organization, says French bulldogs are among the most stolen dog breeds because they're very popular, are small and portable, and are expensive.
French bulldogs from reputable breeders can cost between $3,000 and $5,000, she told the magazine. "The motive is resale. Thieves know they can get a couple thousand dollars for them," she says. Bruno says that, unfortunately, theft of French bulldogs is "on the rise."
Lady Gaga was reportedly in Italy when the attack occurred and a rep for the singer confirmed that the recovered dogs were indeed hers.
This article was originally published on