Lady Gaga's Fierce Defense Of Dr. Ford Leaves Stephen Colbert Speechless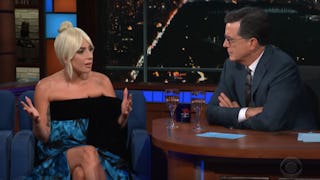 Image via YouTube
You need to listen to every word Lady Gaga says here — Every. Damn. Word.
Instead of spending her time on Late Night With Stephen Colbert promoting A Star is Born — the film literally everyone is (rightfully) buzzing about right now, Lady Gaga used her spotlight to offer her fierce support of Dr. Christine Blasey Ford in a way that left Colbert and the audience completely speechless.
"What I have seen on the news with this debate of Kavanaugh versus Dr. Ford, it's one of the most upsetting things I've ever witnessed," Gaga begins around the 2:36 mark.
And everyone was so focused on her profound words, if a pin dropped in that studio — you'd hear it.
She lambasts Trump for openly mocking Dr. Ford during one of his pointless, ego-boosting Hitler rallies earlier this week, where he claims Ford's testimony isn't trustworthy because she can't remember how she got to the party.
"He said, 'She has no memory of how she got to the party. Should we trust that she remembers the assault?' And the answer is 'yes.'" Gaga says since Dr. Ford is a psychologist, she probably knows better than anyone how trauma unfolds in the human brain.
"If someone is assaulted or experiences trauma, there's science and scientific proof – it's biology – that people change," Gaga explains. "The brain changes. What it does is it takes the trauma and it puts it in a box and it files it away and shuts it so that we can survive the pain."
She offers further insight by explaining that, even if we compartmentalize our trauma, it presents itself in a myriad of ways — physically, by making us sick; mentally, via anxiety and depression; or total numbness. Many people compartmentalize it by completely avoiding thinking about it or intentionally recalling details about it.
And then Lady Gaga ended her speech by taking us all to church:
"But what I believe that we have seen is that when this woman saw that Judge Kavanaugh was going to be possibly put in the highest position of power in the judicial system of this country, she was triggered, and that box opened," Gaga says. "And when that box opened, she was brave enough to share it with the world to protect this country."
That's the first time I've felt like saying 'amen' in over a week, and I'm not even remotely religious. Plenty of people seemed to feel the same way.
https://twitter.com/jetpack/status/1048271935870787584
Lady Gaga's talent is unparalleled by any other modern artist. And she could have easily used all of her time reciting perfect PR soundbites to promote A Star is Born like she and co-star Bradley Cooper have been doing for what feels like years now. And maybe it's kind of crazy to give her so much credit for taking a few minutes to champion Dr. Ford — but we need people like her to keep doing it.
We need smart, powerful, influential women like her to use her platform to do the work. To share her own trauma, and to educate and appeal to the humanity so many people seem to be lacking.
Bravo, Lady Gaga.
This article was originally published on