Stop Everything And Listen To Lady Gaga's Grammys Speech About Mental Health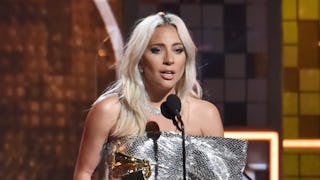 Image via Lester Cohen/Getty Images for The Recording Academy
This might be Lady Gaga's best speech yet
Lady Gaga has never been one to shy away from talking about mental health. It's an incredibly important topic that carries so much stigma, and she's always been proud to be a star who will use her voice to normalize being open about it and encourage more people to seek help and mental health care.
Her acceptance speech at last night's Grammy Awards is no exception. After winning her third Grammy of the night for her smash song "Shallow" from A Star Is Born, Gaga used her time on stage to highlight the film's important messages about seeking help when you need it.
"I gotta thank God, thank you for looking out for me. Thank you for my family at home, I love you," Gaga began, visibly emotional onstage as she choked back tears.
She then continued, "If I don't get another chance to say this: I just want to say I'm so proud to be a part of a movie that addresses mental health issues. They're so important. And a lot of artists deal with that and we got to take care of each other. So if you see somebody that's hurting don't look away. And if you're hurting, even if it might be hard, try to find that bravery within yourself to dive deep and go tell somebody and take them up in your head with you. I love you. Thank you so much to the Grammys."
Can we just pause for a minute here to talk about how she is, now and forever, an absolute queen? Ugh, Lady Gaga, from one girl who's struggled with some mental health problems, thank you for this.
And I'm far from the only person to appreciate her openness. Twitter absolutely lit up with others who had to speak out to thank Gaga for always being such a strong advocate and role model for those who are struggling with their mental health.
This isn't even the first time that Gaga has used her minutes on an awards show stage to preach the importance of taking care of yourself. During her acceptance speech at the SAG-AFTRA Patron of the Artists Award, she did the same. During that event, in November last year, she explained how the pressures of seeking jobs in Hollywood caused her to spiral into both mental and physical health problems. She's open about how she didn't seek help, but wishes she had.
"I'm telling you this because for me it was too late," she said at the time. "I needed help earlier. I needed mental health care. I needed someone to see not through me or see the star that I'd become but rather see the darkness inside that I was struggling with. I wish I had mental health resources then because although what I have is treatable and can hopefully and will get better over time, if there was preventative mental healthcare accessible to me earlier, I believe it might not have gotten as bad as it did. I wish there had been a system in place to protect and guide me. A system in place to empower me to say no to things I felt I had to do. A system in place to empower me to stay away from toxic working environments or working with people that were of seriously questionable character."
Lady Gaga, thank you again for using your time in the spotlight and your influence to speak about something as important as mental health. It's undoubtedly saving lives, and with an audience as large and diverse as all the people who watch the Grammys, someone's life may very well have been saved just last night.