Lady Gaga, Lizzo, And More Are Putting On A Televised Coronavirus Relief Concert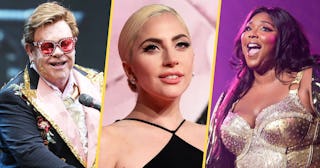 Dave Simpson/Stuart C. Wilson/Steven Ferdman/Getty
Lady Gaga is rallying performers from around the world to raise money for coronavirus relief with a televised concert event
By now, people in quarantine are getting pretty bored. We miss going out with our friends. We miss taking family vacations. We miss seeing live music. Luckily for us, Lady Gaga has a plan.
During a somewhat surprising appearance on a briefing call with the World Health Organization, Gaga announced what she's working on: A global concert event, featuring artists from all over the world, that will be televised so we can all watch from home, and will raise money to provide much needed personal protective equipment to the medical professionals fighting this disease on the front lines.
"We are all so very grateful to all of the health-care professionals across the country and the world who are on the front lines during COVID-19," Gaga said during her call with WHO.
The global event will be called One World: Together At Home. It's set to air April 18, and will feature some of the biggest names in entertainment. Gaga, who's organizing the event, will likely perform. We've also seen news that Lizzo will be involved.
Other performers will include Billie Eilish, Elton John, Kacey Musgraves, Paul McCartney, and Stevie Wonder, among others. The event will be hosted by the talk show trio of Jimmy Fallon, Jimmy Kimmel, and Stephen Colbert. There will also reportedly be appearances from Sesame Street characters and some other surprise guests. And best of all, this event has the potential to raise millions of dollars to help fight the spread of COVID-19, and we can all participate while maintaining our social distancing.
Networks are all working together to make sure just about anyone who wants to watch this can watch it. It will air on ABC, NBC, ViacomCBS Networks and iHeartMedia, as well as on Bell Media networks, platforms in Canada, the BBC, and a number of other international broadcasters. If you don't have cable, you'll be able to stream the concert on Alibaba, Amazon Prime Video, Apple, Facebook, Instagram, LiveXLive, Tencent, Tencent Music Entertainment Group, TIDAL, TuneIn, Twitch, Twitter, Yahoo, and YouTube. This is truly a global effort, and a chance for us all to come together and do some good to fight against COVID-19.
"As we honor and support the heroic efforts of community health workers, 'One World: Together at Home' aims to serve as a source of unity and encouragement in the global fight to end COVID-19," co-organizer Hugh Evans said in a statement. "Through music, entertainment and impact, the global live-cast will celebrate those who risk their own health to safeguard everyone else's."