Lady Gaga Fills The Stage With Survivors Of Sexual Assault For Her Moving Oscars Performance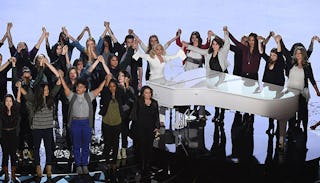 MARK RALSTON/AFP/Getty Images
Lady Gaga honors sexual assault survivors with her Oscars performance.
You tell me it gets better, it gets better in time/You say I'll pull myself together, pull it together, you'll be fine/Tell me, what the hell do you know? What do you know?
Lady Gaga's performance at the 88th Academy Awards last night was a moving tribute to survivors of sexual assault. The image of dozens of survivors standing next to her as she sang the haunting lyrics of "Til It Happens to You" brought tears to the eyes of the attendees and will not soon be forgotten.
Hollywood award nights are known for the beautiful gowns actresses wear and the host who tries to liven up a fairly boring show that always seems to run late. Which is why Gaga's performance was so significant. She covered an important topic in a place where tough talks aren't expected. Gaga's song, co-written with Diane Warren, was nominated for best original song. It was made for The Hunting Ground — a documentary focusing on sexual assault on college campuses and the victim-blaming that occurs when survivors come forward. The film features expert insights and first-person stories shared by survivors of sexual assault.
Vice President Joe Biden introduced Gaga and highlighted the need for a focus on this national crisis saying, "Too many women and men … are still victims of sexual abuse." Gaga is herself a survivor of sexual assault and often speaks at about it on social media. Gaga told Howard Stern in December that she was assaulted when she was 19-years-old by a man 20 years her senior. The singer didn't tell anyone for seven years. "I didn't know how to think about it. I didn't know how to accept it. I didn't know how not to blame myself, or think it was my fault. It was something that really changed my life. It changed who I was completely," Gaga said at a TimeTalks panel.
The song and her experiences capture what so many victims of sexual assault endure. The most powerful part of Gaga's performance were her co-performers. The stage was filled with about 50 men and women who survived sexual assault and had messages written on their arms reading "not my fault" and "unbreakable." They joined their hands and rose them above their heads as various attendees in the crowd started to shed tears.
Gaga and her co-writer both spoke out about the survivors after the show. "Tonight's performance is about giving a voice to the many victims of sexual assault and their families around the world," Warren said in a statement released after the performance, the Los Angeles Times reported. "We are honored to represent so many survivors and hope. 'Til It Happens To You' empowers those watching to get involved and become part of a solution."
Gaga shared an image of herself with the performers on Instagram and the following message, "Thank you for standing next to me on stage. Thank you for all the things you said, for listening to my story and sharing yours. I will never forget it. 50 survivors, so brave, relentless determination."
"Til It Happens To You" didn't take home the golden statuette, but the song and its creators, together with real people who have survived horrific situations, shared their critical message on a night usually reserved for just the glitz and glamour.
Watch the full performance below.
This article was originally published on