Lady Gaga Shares The Powerful Reason She's Not Wearing A Gown In This Photo
by Cassandra Stone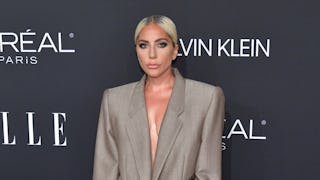 Image via Neilson Barnard/Getty Images for ELLE Magazine
Lady Gaga says she's ready to 'take the power back' when it comes to certain choices
Lady Gaga is sharing the powerful, feminist thinking behind her choice to wear an oversized pantsuit in lieu of a gown at a recent event — and the reason goes much deeper than a simple fashion choice.
During ELLE magazine's Annual Women in Hollywood Celebration earlier this week, Lady Gaga decided to show up sans her usual glitz and glamor and gowns by donning an oversized pantsuit (which she wore the hell out of anyway).
"I tried on dress after dress today getting ready for this event, one tight corset after another, one heel after another, a diamond, a feather, thousands of beaded fabrics and the most beautiful silks in the world," the heartachingly talented star of A Star is Born said while accepting an award. "To be honest, I felt sick to my stomach."
She said she's been reflecting about why she cares so deeply about what she wears to Hollywood events — specifically one that honors women for their talent and power. While she's obviously known for slaying red carpet look after red carpet look, she realized she wants to be known for more than that.
"We are not just objects to entertain the world," she says. "We are not simply images to bring smiles or grimaces to people's faces. We are not members of a giant beauty pageant meant to be pit against one another for the pleasure of the public. We women in Hollywood, we are voices. We have deep thoughts and ideas and beliefs and values about the world and we have the power to speak and be heard and fight back when we are silenced."
Gaga shares that the oversized men's suit made her feel like "her" and that wearing it gave her inspiration for what she wanted to say at the awards celebration. She says she sees the suit as a small act of self-empowerment. She says when she decided to wear it, her team of stylists seemed dismayed and tried to convince her to wear any number of amazing, designer gowns that were already at her disposal.
Gaga made it clear she wasn't having it.
"As a sexual assault survivor by someone in the entertainment industry, as a woman who is still not brave enough to say his name, as a woman who lives with chronic pain, as a woman who was conditioned at a very young age to listen to what men told me to do, I decided today I wanted to take the power back. Today I wear the pants."