Non-Alcoholic Marijuana-Infused Beer Is Here
by Thea Glassman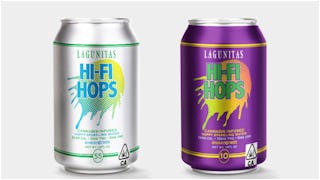 Image via Lagunitas Brewing Company
Marijuana + sparkling beverage = a very fun summer indeed
Your summer is about to get so, so much more fun (if marijuana is legal in your state). A beer company has released a non-alcoholic brew made out of marijuana and it sounds like a sparkly, bubbly, trippy good time.
Langunitas Brewing Company has invented Hi-Fi Hops, a cannabis-infused sparkling water that promises to get you in a super ~chill~ state of mind. The drink hit California dispensaries in July, and contains either THC (Tetrahydrocannabinol) or CBD (Cannabidiol). It rings in at $8 per can and (ding, ding, ding) contains zero calories and zero carbs.
I mean, that's all fine and good, but does not account for the ton of cookie dough batter that you may or may not consume after drinking said drink.
"We've often dreamed of hops and their cannabis cousin partying together at the family reunion," the brewing company said in a statement. "We wanted to bring this party to life in a beverage. It's high-time that good beer inspired a provocative, yet refreshing non-alcoholic alternative. With a smidge of California sun-grown cannabis in every sip."
Yup, yup, yup. Ready for all that.
Hi-Fi Hops is an IPA-inspired brew (so, you can basically pretend like you're drinking alcohol) and the marijuana is evenly distributed so that you're getting sufficiently high with each swig.
Also, it's breaking records. "[Hi-Fi Hops] marks the first time a major brewery has successfully and legally been represented in the THC-infused beverage space," the beverage company noted in its press release. "At its core, Hi-Fi Hops is inspired by our IPA, tastes as refreshing as water and gives you the chill of sun-grown cannabis."
Important side note: the drink comes with childproof packaging which means we can all breathe an enormous sigh of relief.
If you're feeling a little nervous about getting a bit too high, never fear. There's two options you can choose from: one with 10 mg of THC and the other with 5 mg of THC and 5 mg of CBD (which is a non-psychoactive found in cannabis).
Plus, you'll feel the effects quickly, but not for an annoyingly long amount of time.
"Euphoria and cerebral 'headiness' are commonly reported amongst Hi-Fi Hops enthusiasts," the brewing company explained. "Cannabis beverages, in general, tend to have a much faster absorption rate into your blood stream, meaning you will feel the effects much faster but that they will also recede at a quicker rate."
Head here to find the closest dispensary that sells Hi-Fi Hops. Summer is almost over, and it's high time that things got a little weird.
This article was originally published on