Lake Bell: 'I Feel Least Powerful When I Am Parenting'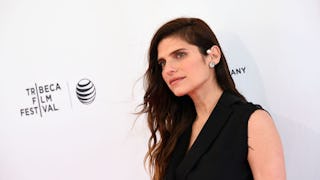 Image via Ilya S. Savenok/Getty Images
Lake Bell talks parenting power struggles
Lake Bell has her fingers in a lot of pies. In fact, as a writer, actor, and director, Bell also ground the grain, milked the cows, and harvested the fruit for those pies. But there is one area of her life in which Bell feels the least in control: parenting her two children, Nova and Ozzie.
In an interview for The New York Post with friend and brilliant comedian Tig Notaro (if you're a fangirl and you know it clap your hands), Bell said that she has been surprised by how much control a person who weighs about thirty pounds and can't even wipe their own butt yet can have. "I feel least powerful when I am parenting. Now that my daughter is nearly 3 — we have raised a very confident little sprite — I am in awe of the power she can wield."
A "confident" 2-year-old girl? Oh, Lake. We feel your pain. Anyone who has been the parent of a toddler is familiar with the kind of power struggles that occur on a daily basis, but those of us who had toddlers we described as "spirited" understand the agony that comes from having a toddler with high self-esteem. It's a mixed bag: on the one hand, you're grateful to have a child who knows their mind and believes in themselves, but on the other hand, you would like to die, please.
Bell says that one of the ways her daughter tests her is by standing on the table, because of course, why not: "She's testing those waters. So she'll start to creep to stand on the table and look at me. And in that moment — when she shoots a look back at me in defiance and, 'What are you going to do about it?' It is my least favorite moment of parenting because I don't want to be a d–k about it. And that is a constant power struggle."
It's a mind-bending moment when you realize you're arguing with another human being about their right to stand on top of a table. But when they're 2, falling off a table could get them very badly hurt, so it's more like arguing with an adult who's dancing on the edge of a cliff. "You really shouldn't do that, and you're an idiot for doing it, and this is so meaningless and weird that I should just let you go ahead and fall and learn your lesson but I'm pretty sure that would make me an accessory and I don't want to go to jail. So…please stop risking your life?"
The difference is that when you have a two-year-old, you're trying to bargain someone off a cliff 300 times a day. It's ridiculous, it's exhausting, and it does occasionally make you feel like the person in your family with the least amount of good judgment is the one in control of your life. The bad news is, they are. The good news is that, like Bell, we're all there with you.