Active Shooter Drill Gone Wrong Traumatizes Students And Staff At Florida School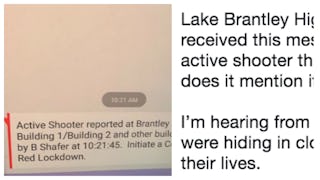 Image via Twitter/Michael Williams
Students and teachers were told there was an active shooter on campus during a drill
An unannounced active shooter drill was conducted at Lake Brantley High School in Altamonte Springs, FL this week, leaving parents and students terrified. Teachers received a text message that there was a shooter on campus and were instructed to initiate a "code red" lockdown. Complete panic ensued.
On Thursday morning, a Lake Brantley administrator got on the intercom and warned the entire student body that there was an active shooter in the school. "This is not a drill," he said, according to TODAY. Teachers locked classroom doors, turned off the lights, and students were instructed to hide in the closets.
A text message from a school-wide emergency notification system was sent out to staff that read: "Active Shooter reported at Brantley/Building 1/Building 2/ and other buildings by B Shafer at 10:21:45. Initiate a Code Red Lockdown."
There were reports that a student passed out, there was an asthma attack, and a teen vomited. Some texted their parents to say goodbye, just in case something happened to them. Students at a nearby middle school began crying because they heard about the incident and thought that their siblings at Lake Brantley were in danger.
After about twenty-four minutes, an announcement was made that the "code red" drill was complete. However, the audio from the intercom was shaky and students thought that the school was issuing another code red. Even more chaos ensued.
"I saw hundreds of people start running and screaming, and people were getting stampeded trying to get out," Joseph Cirillo, a junior at Lake Brantley told TODAY. "I ran out and jumped two fences and ran into a random neighborhood."
Captain Rick Francis, the director of district safety and security for Seminole County Schools, explained that the sheriff's office initiates unannounced and announced safety drills to make sure that students and teachers are fully prepared for the worst. He said that they're going to continue to conduct unannounced drills because of this imminent threat of gun violence in schools.
"There's someone out there planning the next event right now," he said. "My job is to keep it out of our schools. If that means unannounced code red drills, that's what I have to do."
Lake Brantley High School's Facebook page posted an update about the incident on Facebook but later took it down. "Nothing is more terrifying than getting a text from your daughter who is hiding in her classroom having a complete anxiety attack," one parent wrote in response to their post, according to The Daily Mail.
Meanwhile, students are still shaken from the entire traumatic experience.
"I can still hear the voice of my teacher saying, 'Oh my God, there's a shooter in Building 1,'" Avery Brennan, a junior at Lake Brantley, told TODAY. "That's burned in my brain now, even though it's not real. I am going to remember that forever. No one should go through this, especially if it's not really happening.