Lakers Manager Shares Kobe's Last Text To Him Before Helicopter Crash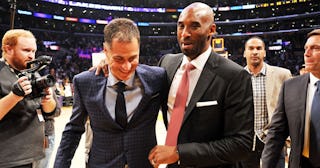 Allen Berezovsky/Getty
Kobe Bryant spent his final minutes trying to help a friend's daughter secure an internship
Los Angeles Lakers manager Rob Pelinka shared that he was texting with Kobe Bryant shortly before the helicopter crash that took the NBA star's life along with his 13-year-old daughter Gianna and seven other people. Bryant spent what would be his final minutes using his platform and connections to help a young woman secure an internship in the baseball world.
Pelinka, who was Bryant's agent and friend even before he became the Lakers GM three years ago, says Kobe texted him for help finding a baseball agent for a friend's daughter who was interested in an internship. At the time of Bryant's message, Pelinka says he was in church and normally, would've ignored the buzz of his phone. But something in him told him to check it this time. "In that moment, my instincts were to put the phone down and get back to the preacher's sermon but a gentle otherworldly nudge compelled me to open the text, so I did. I quickly saw that Kobe was asking me if I happened to know a certain baseball agent based in Southern California," he recounts.
"I grabbed my phone and text Kobe back that I had seen the baseball agent at a Lakers game just the other night and was happy to help him with whatever he wanted," Pelinka told the crowd at Bryant's public memorial at Staples Center on Monday. "It was now just past 9:30. Kobe texted back explaining his desire to help a friend of his secure a baseball agency internship for one of his young daughters. Kobe vouched for the girl's character, intellect and work ethic. He clearly wanted to champion a bright future for her."
"I text Kobe right back and said I would put a plan in motion to help get that done," Pelinka said. "A handful of minutes later, Kobe and Gianna and seven other beautiful souls ascended into heaven. Kobe had been texting me from the helicopter."
It wasn't lost on Pelinka that one of Bryant's last acts on earth was trying to help a young girl go further in the sports world, and heartbreakingly, she was the daughter of one of the other victims of the helicopter crash. "The girl in that text chain that he was wanting to help so badly was Lexi Altobelli, the surviving daughter of coach John Altobelli who was also on the helicopter. Kobe's last human act was heroic. He wanted to use his platform to bless and shape a young girl's future. Hasn't Kobe done that for all of us?"
After all, Bryant was the father of four girls and dedicated a lot of his post-NBA time to the cause of youth sports, particularly for girls. He coached his daughter Gianna's team and had a foundation for youth in sports that's now been renamed by his wife, Vanessa, to honor Gianna as well.
Girls in sports were central to Bryant's retirement from professional basketball, as both his older daughters were active on teams for their schools and for Mamba Sports Academy, the organization Kobe and Gianna were heading to for a game on that fatal helicopter ride. His pride in her talent was evident and his dedication to the success of his daughters and other young women was unquestioned.
His loss is being felt in so many ways and his life touched countless others. As people share their memories of Bryant it's easy to see that while he may be gone, his legacy will always be here.