Lane Bryant Throws Shade at Victoria's Secret Angels
by Hollee Actman Becker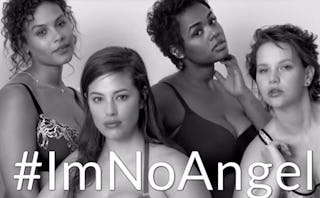 I also spent half the trip following my middle-schooler around like her own personal paparazzi. She handed me her phone and ordered me to take pictures while she jumped off the side of the pool, sunbathed on a chaise lounge, sipped a smoothie under a tree. Fun times! And a quick glance at my Instagram feed when we got back to the hotel room one night showed me she wasn't alone. Just about every girl between the ages of 12 and 22 was hard at work posting artfully-posed-to-look-not-posed SB pictures. Because pics or it didn't happen, people!
As the week wore on, my newsfeed devolved into what can only be described as "Instagram: The Swimsuit Edition." Mad props for the confidence, girls. Still, my heart sank as I stopped to read some of the comments below the brazen images: "your a stick," "eat something," "hottie with a body," "skini mini," "go find food," "stop ur so skinny," "literally body goal," "your so skinny and ripped."
Shit, I thought. It's starting.
The pressure to look good in a bikini is nothing new. We've all been there. But the pressure to look good in a bikini on social media? That's something else entirely. Which is why I am so intrigued by Lane Bryant's new #ImNoAngel campaign, designed to celebrate women of all shapes and sizes by "redefining society's traditional notion of sexy." Launched on Monday, the campaign features curvy models like Ashley Graham—famous for being the first plus-size model to be featured in Sports Illustrated—rocking lingerie from the brand's Cacique line.
The campaign has taken some heat for being an obvious dig at Victoria's Secret and its bikini-perfect angels. But the body positive message behind it is currently blowing up on Twitter and Instagram as both women and girls begin to co-opt the #ImNoAngel hashtag to show that beauty really does come in all shapes and sizes and wings aren't required for self-esteem to soar.
"We've had young girls come up and say thank you, you've changed my outlook on body image," Graham told Today. "It makes me want to cry. We're literally changing lives by saying nobody is perfect."
That may be a bit of an overreach. There remain millions of girls out there for whom Angels represent "literally body goals." But still, it's a start.
This article was originally published on