Swimsuit Model Rocks Stretch Marks In Lane Bryant's New Unretouched Ad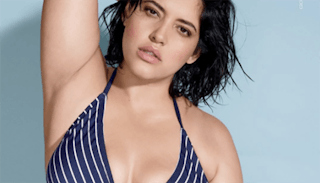 Image via Lane Bryant
There are stretch marks in the 2017 Sports Illustrated Swimsuit Edition, thanks to this ad
In 2015, Sports Illustrated made waves for finally allowing a plus-sized model to appear on its pages. It was the first time in the swimsuit issue's history that a plus-sized model was included. No, she wasn't one of the actual SI swimsuit models. She was appearing in an ad for plus-sized bathing suits. That model was Ashley Graham, and she would go on to grace the cover in 2016.
That's quite a leap — from ad to cover, in just a year. Why did it happen? Because people loved it. They loved her ad. They loved her curves.
SI is making what some feel is another big leap this year, by again allowing a woman with a body you don't normally see included in their coveted spread to appear on their pages. Once again, it's an ad for plus-sized swim wear. This time, the model is flaunting an un-retouched body and stretch marks. But let's give kudos where the kudos are due, shall we? Sports Illustrated may be accepting money from a purveyor of plus-sized suits. Big deal. It's the company behind that ad that's really making waves: Lane Bryant. Lane Bryant keeps kicking ass, and showing women in a real, positive light.
Lane Bryant's Cacique swim line is being featured in SI's swimsuit issue for the second year in a row. This year, model Denise Bidot stars in their ad. She slays.
It's sexy. It's confident. It's real. Magazines (yes, even SI's swimsuit issue) are becoming more and more inclusive of women of different sizes and shapes. But even though curvier bodies are gracing the pages, the images are still retouched in such a huge way that the message is still "you'll never be good enough the way you are." You may look at retouched photos and think, Who cares? It's supposed to be a fantasy. It's pages of a magazine. It's not reality. But constantly seeing these images matters. Whether you are consciously digesting them or not — the message is there. Why shouldn't we celebrate how a real woman's (and man's) body looks?
"We at Lane Bryant simply believe that all women should be seen and celebrated as they are. Society and the media continuously project an unrealistic and frankly out-dated beauty and body standard," CMO and EVP of marketing for Lane Bryant, Brian Beitler, explained to The Huffington Post. We couldn't agree more.
Bidot posted another image from the shoot to her own Instagram account:
"Loving this new image and how real it is," she wrote. "Thank you @lanebryant for loving my body, stretch marks and all."
More of this, please.
This article was originally published on