Larry Nassar Complains It's Too Hard To Listen To Victims' Stories, Judge Eviscerates Him
by Valerie Williams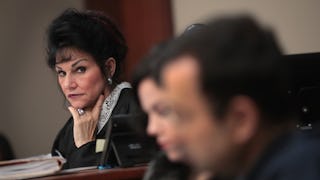 Image via Scott Olson/Getty Images
Judge Rosemarie Aquilina read part of Nassar's letter aloud in court before tearing him apart
Former USA Gymnastics team doctor Larry Nassar is about to go to prison for a very long time on child pornography and child molestation charges, but first, dozens of victims of his heinous sexual abuses get a chance to face him in court to tell him exactly what he's done to their lives.
And he has the nerve to whine that it's too hard for him to hear.
In a letter to County Court Judge Rosemarie Aquilina, Nassar complained that "listening to impact statements is detrimental to his mental health." Apparently it's too hard on him hearing his accusers detail the horrific abuse they suffered at his hands. He called the days of court time dedicated to the victims telling their stories in his presence a "media circus."
As she read the letter, Judge Aquilina said, "Now this is entertaining to me," referring to Nassar's plea to stop listening to his victims describe the abuse he inflicted on them. She read portions aloud to the court.
"Aquilina said if I pass out she'll have the EMTs revive me and prop me up in the witness box." She literally scoffed after reading this part, and for that, we love her.
Aquilina told the convicted molester, "I suspect you have watched too much television. It's delusional. You need to talk about these issues with a therapist and that's not me."
Nassar has pled guilty to molesting seven girls in Ingham County and his plea agreement allowed all of his accusers to give impact statements at his sentencing. Over 100 women have decided to face him in court to tell their stories, or to have someone else read a statement for them, like USA Olympic gold medalist McKayla Maroney. Her statement, read by an attorney said, "Dr. Nassar was not a doctor. He in fact is, was, and forever shall be a child molester, and a monster of a human being."
Nassar's six-page letter stated that he thought it was Aquilina's fault the media was present for the reading of the impact statements. "Aquilina is allowing them all to talk," the judge read from the letter. "She wants me to sit in the witness box next to her for all four days so the media cameras will be directed at her."
Aquilina rolled her eyes and said, "I didn't ask any media to be here."
The judge explained that having Nassar sit in the witness box is "not for my entertainment, quite honestly, [but] so that your victims can face you in the eye without turning back constantly." In the letter, Nassar notes that he fainted twice before his federal sentencing on child pornography charges and Aquilina claims she took that into account when it came to where he should sit to hear his victims speak.
"I could not have you with a heart condition standing for 4 days. That would be cruel and unusual punishment."
Rosemarie Aquilina is an absolute hero.
The fact that this garbage monster has the nerve to complain about having to hear about what he did to over 100 girls and women is nothing short of infuriating. It's also an incredible relief that his complaints are more or less falling on deaf ears with Aquilina fully recognizing that the hurt his victims went through is far worse than his "ordeal" hearing their statements.
"I don't have a dog in this fight, sir," the judge told Nassar. "I didn't want even one victim to lose their voice."
"Spending four or five days listening to them is significantly minor considering the hours of pleasure you had at their expense and ruining their lives."
This article was originally published on