Larry Nassar Has Finally Been Sentenced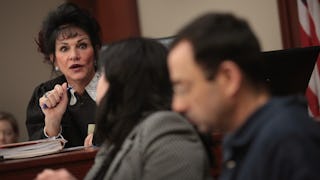 Image via Scott Olson/Getty Images
Judge Rosemarie Aquilina gives Larry Nassar a sentence that means he will never live outside of prison again
Convicted child molester Larry Nassar, already sentenced to 60 years in federal prison for child pornography convictions, has been sentenced again for decades of sexual abuse committed as team doctor for the USA gymnastics team. Judge Rosemarie Aquilina handed down the hefty sentence — and it ensures he will never again step outside of prison.
After seven days of testimony by 156 of Nassar's victims, including USA Gymnastics Team members Aly Raisman, Jordyn Wieber, and McKayla Maroney (an attorney read her statement to the courtroom while the other two women came in person), Aquilina handed down the sentence of up to 175 years in prison. "It is my honor and privilege to sentence you," she said.
"I've just signed your death warrant," Aquilina told him. "I find that you don't get it, that you're a danger. That you remain a danger."
"I wouldn't send my dogs to you, sir," she told Nassar in the courtroom where survivors have spent the past week reading their impact statements in his presence. "You do not deserve to walk outside of a prison ever again."
Nassar has been accused of abusing girls as young as six in his capacity as a physician under the guise of his "treatments" being medical in nature. Some survivors addressed this in their testimony with USA Gymnastics "Fierce Five" team member Jordyn Weiber saying in her statement, "He did it time after time, appointment after appointment. I had no idea he was sexually abusing me for his own benefit," she said. "I knew it felt strange."
Rachael Denhollander was the first woman to file a criminal complaint against Nassar, and she read her impact statement today before his sentencing. She was the last of the survivors to do so.
In her statement, Denhollander asks Aquilina to consider a few things when determining the length of Nassar's sentence. "How much is a little girl worth?" she asks. "How much is a young woman worth? Larry is a hardened and determined sexual predator. I know this firsthand."
Throughout her testimony, which included sickening accusations of Nassar using his own daughter to "manipulate" her, Denhollander held fast to what she knew to be true about her abuser. "I can speak the truth about my abuse without minimization, or mitigation, and I can call it evil, because I know what goodness is. And this is why I pity you."
Aquilina was sure to credit Denhollander for being brave enough to step forward as the first voice accusing Nassar of abuse in the first place back in 2016. "You started the tidal wave. You made all of this happen. You made all of these voices matter. Your sister survivors and I thank you. You are the bravest person I have ever had in my courtroom."
Aquilina listened to all 168 statements (some read by attorneys or family members) and her final verdict means Nassar will certainly spend the rest of his life in prison.
In the end, Nassar's conviction and sentencing are only addressing part of the issue, and his trial has led to the chairman and several board members of the governing body of USA Gymnastics recently resigning. Fierce Five team member Aly Raisman dedicated some of her testimony to slamming the organization for their inaction and thereby enabling Nassar's abuse saying it's "rotting from the inside."
After reading part of a letter to her where Nassar accused his victims of lying to the media, saying they kept coming back to him "over and over," Aquilina asked Nassar if he'd like to withdraw his guilty plea and he said no. "Because you are guilty, aren't you? Are you guilty, sir?" she said.
At the end of the sentencing, the courtroom burst into applause.
But Aquilina's final words to Nassar's victims were also a poignant moment after a week of brave women facing their abuser. The judge credited the group for their brave testimony telling them, "You are no longer victims, you are survivors."