Las Vegas Is Allowing Parking Tickets To Be Paid Off In School Supply Donations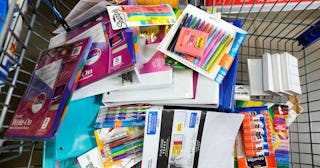 Portland Press Herald/Getty
What happens in Vegas should be happening everywhere because school supplies instead of fines is GENIUS
If you've ever had a parking ticket, you know how frustrating they can be because please for the love there are so many more important things we could be spending our money on, like a new pair of shoes, bottomless chips and salsa, or, as the city of Las Vegas decided, new school supplies for kids and teachers.
The Las Vegas City Council approved a month-long plan allowing Vegas residents' parking tickets to be paid by donating school supplies, according to a press release from the city council for tickets issued between June 16 and July 19. The average parking ticket in Las Vegas will run people around $50.
The unanimous vote allows parking offenders to bring new, unwrapped school supplies of equal or greater value to the ticket to Parking Services Office now through July 19. All supplies received by the city through the program will be donated to the Teachers Exchange, a nonprofit associated with the Public Education Foundation.
This is SO much better than doling out cash for a parking fine. Like, this makes us want to park illegally in Vegas a couple of times TBH.
Parking tickets are a pain in the ass but if they aren't paid on time, things can get a whole lot worse. According to Spot Angels, deciding to "stick it to the man" can result in increased fines, court appearances, warrants, and even license suspension. But knowing your hard earned money is going towards a school in need makes the entire parking ticket process much more palatable.
This is seriously the best, most creative idea I've heard in a while. Schools around the country are always in desperate need of supplies, so much so that many teachers buy supplies out of their own pockets year after year, semester after semester, to make sure every child has what they need to get through the school year. Having the city get involved to help out with something so critical to all students should be commended.
Some accepted supplies include pencils, pens, erasers, dry erase markers, index cards, copy paper, paper towels, storage bins, disinfecting wipes, rulers, scissors, pencil sharpeners, and sticky notes — all supplies that are much needed in classrooms from elementary school on up.
Donations must be made within 30 days of the infraction which must be a "non-public safety violation," according to the release. This isn't the first time the city has come up with a creative way to help the community — they've been running similar programs since 2016 to allow parking fines to be paid via charitable donation. Considering parking tickets are a major money maker for cities (like millions of dollars a year), this is a refreshingly positive idea.
So, if you happen to live in Vegas or be visiting anytime soon and are the unfortunate recipient of a ticket, please do everyone a favor and pay your fine in school supplies. The teachers of America will thank you.
This article was originally published on