You Can Help Victims Of The Las Vegas Shooting By Donating Blood Now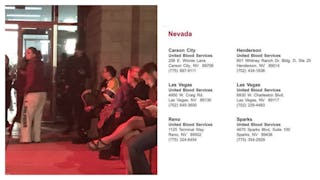 @abc7 / Twitter (left photo) @@a_picazo / Twitter (right photo)
If you feel hopeless today after waking up to news of the mass shooting in Las Vegas, you are not alone. The shooting, which was the worst mass shooting in modern U.S. history, has ended the lives of at least 50 people and injured another 400. Due to the large scale of the attack, hospitals across the state are putting out calls for blood donors — and that's where you can help.
Nevada hospitals, as well as the city's sheriff, are asking people in the state to donate blood. Even if you live outside of Nevada, donating blood can still help those injured, as blood is often sent to places in need after tragedies and natural disasters.
To donate, you must be 17 years of age (16 with parental consent) and weigh at least 110 pounds. If you are concerned your health prevents you from donating blood, you can learn more about the restrictions and requirements here. Once at the blood center, you will fill out a questionnaire and be screened by staff. If you are ineligible, staff at the blood donation center will let you know before you donate. For your health, be sure to hydrate and eat before giving blood.
To find a blood donation center near you, visit United Blood Services.
This post originally appeared on The Mighty.