MGM Is Suing More Than 1,000 Victims Of Last Year's Las Vegas Shooting
by Christina Marfice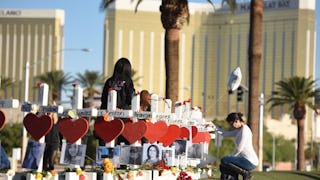 Image via ROBYN BECK/AFP/Getty Images
MGM International is shamelessly suing Las Vegas shooting survivors over liability for the tragedy
It's been more than nine months since 58 people were killed and hundreds more injured when a gunman opened fire on a crowded concert venue in Las Vegas. The killer, Stephen Paddock, rained bullets on the Route 91 Harvest festival-goers from a room in the Mandalay Bay resort. Now, the owner of the Mandalay Bay has filed a lawsuit against more than 1,000 Las Vegas shooting survivors in an attempt to escape liability for the injuries and deaths that occurred that night.
MGM International, the owner of both the Mandalay Bay and the Route 91 Harvest music festival, isn't seeking any money in its lawsuit. Instead, it wants a judge to dismiss nearly 250 lawsuits filed by victims against it, claiming the company was at least partially responsible for the massacre.
MGM International is claiming that the security company it hired for the festival was certified by the Department of Homeland Security, and that that protects MGM from liability under a 2002 anti-terrorism law.
In a statement, it also tried to paint this as a good thing for the victims, saying, "Years of drawn out litigation and hearings are not in the best interest of the victims, the community and those still healing."
Meanwhile, Robert Eglet, an attorney who represents several of the victims, said the lawsuit "quite frankly verges on unethical."
"I've never seen a more outrageous thing, where they sue the victims in an effort to find a judge they like," he told the Las Vegas Review-Journal. "It's just really sad that they would stoop to this level."
And on Twitter, some people have been calling for a boycott of MGM International's hotels and casinos.
The shooting remains unresolved, since police still have been unable to figure out a motive for Paddock to open fire on hundreds of people. He holed up in his room at the Mandalay Bay, and after 10 minutes of shooting at concertgoers, shot and killed himself. Lawsuits have since been filed by victims' groups against both MGM International, and Live Nation, the promoter for the festival.