The New 007 Title Will Go To A Black Woman And People Are Here For It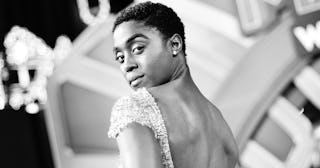 Charley Gallay/Getty
It will be the first time the 007 title has ever gone to a female
There's been much discussion amongst James Bond fans after the film's latest franchise star, Daniel Craig, announced he'll be forever parking his Aston Martin after the 25th Bond movie. While most considered which man would be taking over the iconic role, it seems filmmakers had a different idea — the next 007 will be a woman.
Reports have been coming from all over Hollywood that British actor, Lashana Lynch, has been cast as 007 – taking over Bond's secret agent number when he officially leaves MI6. Fans of the franchise are over the moon that a black actor has finally been cast in the role — a hope since Idris Elba was rumored to be replacing Craig after his exit. The fact that it's a woman is even more kickass.
https://twitter.com/jetpack/status/1150322612091969537
If Lynch does take over the title, it would be the first time a white man will not play 007 in the movie series' 57-year run. The Daily Mail first announced the possibility, citing a "movie insider" reported Lynch will be given the 007 designation, but she's not a new Bond.
According to the reports, the 25th film opens with Craig, who is retired and living in Jamaica, being called back to fight a new villain. "There is a pivotal scene at the start of the film where M says, "Come in 007", and in walks Lashana who is black, beautiful and a woman," the source said. "It's a popcorn-dropping moment. Bond is still Bond but he's been replaced as 007."
This next film will feature four "Bond women," Naomie Harris returning to her role as M's secretary, Eve Moneypenny; Lea Seydoux reprising her SPECTRE role as Bond's lover, Dr. Madeleine Swann; Blade Runner 2049 star Ana de Armas as Paloma will also be joining the cast as a new character alongside Lynch, whose character will be called "Nomi."
Understandably, many men have their tighty-whities in a bundle over the decision, such as the case any time there is change or progress. The difficulty in the next movie, currently being filmed in the UK, is to make Lynch's character as strong and capable as Bond himself. If anyone can do it, It's Lynch, best known for her role as Maria Rambeau in Captain Marvel.
It's still unclear whether Lynch will be set up to officially take over the role of Bond after her introduction in this latest film. Fans would clearly love it, but if history is anything to go on, there's still a good possibility another white guy will eventually carry on the famous moniker. We think the world is ready for a female to be cast in this iconic role.