Dear Last Kid, Sorry You're Never Getting Anything New
by Melissa L. Fenton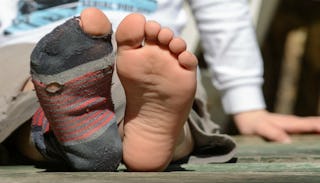 iStock
As the youngest of three girls, I was inevitably a hand-me-down kid. I wore whatever my older sisters wore, whether it was in style, raggedy, or barely even wearable. I was always a good seven years behind the times in clothing, shoes, and whatever other accessories my mom refused to buy new. I rode old bikes, danced in used tap shoes, skated in already broken-in ice skates, and carried a Wonder Woman lunch box well after Wonder Woman was cool.
It sucked. I was forever wandering around toy stores and girls' dress departments longing for something new. Anything new — socks, a hair barrette — anything new.
I swore when I had my own kids, my youngest would not suffer the same fate. There would be no ratty worn-out pants that I had hemmed, then let out the hem, and then hemmed again for my little guy. There would be no gray shirts that were once bright white, no mismatched pajamas, no pants with faded knees, and no holey superhero underwear. There would be no paint-chipped Thomas the Trains and no broken toys that no longer lit up or sang.
Nope. My youngest would get the same treatment as my oldest, including access to plenty of brand-new shiny things, dammit!
And then I had four boys. Four kids of the same sex, people. How do you not save, like, everything and reuse it?
So I did, and my youngest is currently wearing shorts circa 1999. As a matter of fact, I'm pretty sure while folding clothes last week, I came across a shirt of his that had four surnames crossed off on the tag with only our name left. That means four families owned that shirt and then gave it to me, which I then gave to my oldest and which I later passed down to my last kid. Theoretically, that damn shirt could be on its eighth kid. I call that a major #ParentingWin.
I feel no shame in the fact that my fourth kid slept in a used crib, wore cloth diapers his older brothers spent years crapping in, stacked plastic blocks that had been stacked a decade before, and read board books with well-chewed corners. That first pair of white leather $65 Stride Rite walking shoes I bought for my first baby? I can promise you this: They didn't end up bronzed and sitting on a shelf. Those suckers ended up on my last kid's feet. He's pushed old cars across the floor, drank out of cracked-lidded sippy cups, and played tee-ball in stained baseball pants and beat-up cleats. He's worn old Halloween costumes and even carried backpacks with his brother's name monogrammed on it.
Do I feel guilty about my hand-me-down kid? Not in the least. Do you know how much easier it is to just go unpack a box of clothes, toys, and other shit than to actually drag a kid shopping? And don't even get me started on all the money that living like this has saved our family. It's a crap-load. Translation: more lattes for me!
As for the kid who has been the unfortunate brunt of all my penny-pinching, he has always taken it well. The best part is when I do splurge and get him something new, he is the most thankful kid on the planet. I mean, he truly understands the value of things and how stuff is not simply disposable because we may want something newer. He knows what repurposing means, understands that when we don't spend we save, and often has an attitude of gratitude that sadly is not shared by his more fortunate older brothers. That may be the best by-product of all of having a hand-me-down kid.
And all those pennies I've saved? I now know where all that money is going to end up.
It will be spent on bows, tutus, tea sets, baby dolls, and little black patent leather Mary Janes for my first granddaughter. I think that's the real purpose of grandchildren: to be that one kid who I can make sure will never be in hand-me-downs.
[free_ebook]