Steal Alert: 5 Amazing Stocking Stuffers Under $15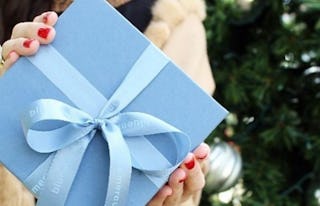 Time is running out to get that holiday shopping done, but not worry – we're here to help with our favorite beauty deals of the season!
1. TOCCA Crema Veloce. Limited Edition Price: $16. The best hand cream there is, in precious little travel sizes. YUM.
2. M-61 Set of five PowerGlow Peels. $14. Can't afford a trip to the spa? These peels exfoliate, resurface, clarify and firm up skin in one easy step. Yes, please.
3. Bliss Vanilla Gift Set. Value: $29.99 Special Price: $10. This delicious trio of vanilla bath and body must-haves is almost good enough to eat. Really.
4. Kiehl's Hydration Essentials. Limited edition $22.50. Winter skin sucks, so help her combat it with this "best of" set. She'll thank you, we promise.
5. Sprinkles Red Velvet Lip Scrub. $24.00. What's better than kissably soft lips? Ones that taste like cupcakes, of course. We can't get enough of this lip scrub – you'll want one for yourself too!
Now, seriously, go shop! The clock is ticking. Be sure to take advantage of free shipping and samples from Blue Mercury!
Editors may receive samples and/or a share from purchases made via links on this page.
This article was originally published on