Last-Minute Stocking Stuffers Because You Probably Forgot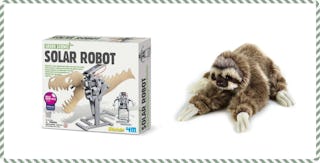 Walmart.com
Let me be a warning to you. Do NOT, under any circumstances, only remember at 9 pm on Christmas Eve that you forgot to buy stocking stuffers because then you'll be running to the corner drugstore searching through the nearly bare shelves buying deeply off-label toys and stale candy. Instead, buy these things TODAY, so you can enjoy all the eggnog you like on Christmas Eve.
If you're always looking for super fun STEM-related gifts, you will love this! Such a fun, simple project that really helps kids understand some engineering and design basics. My kid LOVES these sorts of kits, you cannot go wrong with them.
It's purple and has a unicorn ON a rainbow. What's not to love? Plus this 12oz Double Wall Vacuum Insulated Modern Water Bottle is exactly the right size for lunch boxes. Perfect for your unicorn-crazy kid.
Where The Wild Things Are is the book we grew up with, and so did our parents, so you DEFINITELY want to get it for your kid! This Where the Wild Things Are: Max Plush Toy and Sticker Book is great because it comes with a plushy Max and stickers, too.
STOP IT WITH THE CUTENESS. These adorable small dolls are so sweet and adorable, and my doll-obsessed daughter wants them allllll. I'm buying her Enchantimals Cherish Cheetah and Quick-Quick though because cheetahs are AWESOME.
If you're thinking about starting out your littles with a fun tablet, the PBS KIDS 7″ HD Educational Playtime Kid-Safe Tablet is PERFECT. Guilt free, since it's PBS, and maybe you'll even get a minute if your kid is distracted by this tablet.
I know everyone else is Alexa crazy, but if you're going to use the search function of your AI, go to the masters of search. We got this a month ago and we all LOVE IT. Plus Google Home Mini is on sales and comes with free YouTube Music!
This is one of the best deals on a Nintendo DS2 I've seen! Nintendo 2DS System with New Super Mario 2 is such a perfect gaming tablet, your kid will love it. I love Super Mario Bros., so maybe this is just a present for me? No shame in that, right?
PLUSHY SLOTH. What else needs to be said? If you don't like sloths, are you even a person? Grab this Lelly National Geographic Plush, Sloth because I don't know a single human who wouldn't like it.
I long for the day when my child no longer makes me watch her play Minecraft. At least with this LEGO Minecraft The Zombie Cave it won't make me motion sick to watch her build it.
The only way to finish off a stocking, of course, is to load it up with the colorful KISSES Holiday Milk Chocolates. DUH.
So there you go! Your complete stocking stuffer list so you can avoid finding the last stores open at midnight on Christmas Eve. Because no one wants that to happen. Merry Christmas!
This article was originally published on