Musical Sketch Hilariously Depicts Melania's NYC Life After The White House
by Christina Marfice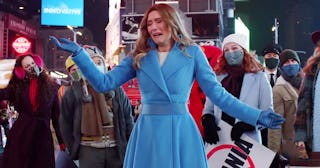 The Late Show with Stephen Colbert/Youtube
New Yorkers are only too happy to tell Melania how much they hate her in hilarious parody video
This week is going to be great for a number of reason. Joe Biden is being sworn in as the next President tomorrow. But that means something else great: Donald Trump and his wife, Melania, will be leaving Washington, D.C. (and hopefully public life). So what's next for the foul-mouthed First Lady? That's what Late Show actor Laura Benanti wanted to explore in a new musical sketch that shows Melania trying (and failing) to return to a "normal" life as a New York socialite.
"I have spent the last four years serving in the White House, but all good things must come to an end," Benanti-as-Melania says in the intro to the clip. "The tragic events of the last couple week, as well as all of the ones from all of the years before, have made me realize I need to think long and hard about what to do next."
She pauses for less than a second and then continues, "OK, thought of it: I'm ditching that loser and moving back to New York, baby!"
While leaving the Donald may not be the worst path forward for Melania, in this sketch, she has a rude awakening in store. She's about to find out how New York feels about her return. In short, they, uh, don't want her back. At all.
"It's so good to be in NYC. The 'Be-Bestest' city on Earth," she quips. "The huge apple. The city that never sleeps with a porn star that lies to you about it. Being here makes me feel, which is something I don't normally do."
She then launches into her musical number, which is a take on Belle's song "Bonjour" from Beauty and the Beast. Dancing around Times Square, she sings, "Hey New York / New York have you missed me? Just as much as I missed you? Pretty town, home to pretty people, and also you know who."
As she sings, though, the camera cuts to New Yorkers on the street, like a construction worker and a hot dog vendor.
"Fuck you," and "You suck," they tell her. Weird how being complicit to the worst presidency in American history (including a deadly attack on democracy itself) will make you less popular with the people.
In the next verse, Melania is starting to catch on to the people's feelings about her.
"Starting to wonder if New York dislikes me / What is this word 'complicity?' / That riot on the Mall / Hurt Melania most of all / No one in Earth is bullied more than me."
It's a pretty genius callback to the statement the real First Lady released several days after the Capital riots, where she spent less time criticizing the rioters than she did criticizing people who gossip about her.
If you, like us, want to celebrate the final day that Melania and Donald Trump will inhabit the White House, this musical sketch is a great way to do it. Melania's message starts just past the two-minute mark.