Parents Of Student Murdered By Stalker Sue School For Failing To Protect Daughter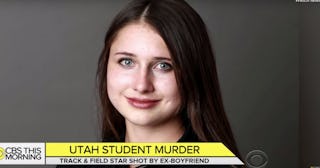 YouTube/CBS
McClusky was shot while on the phone with her mom
A $56 million lawsuit has been filed by the parents of Lauren McCluskey after they allege her university failed to protect their daughter from an ex-boyfriend she'd complained about to police more than 20 times.
According to CNN, 21-year-old McCluskey reported "stalking, abuse, intimidation and violence and other behaviors prohibited under the federal Title IX law" to the University of Utah almost two dozen times over the course of a month and received no help as well as meeting with a university counselor twice about the situation. She was shot and killed outside her dorm room later that month.
McClusky, a track and field athlete, had a brief relationship with the 37-year-old man who began harassing her after she ended things between them. McCluskey's mother, Jill, believes the university did nothing to protect her daughter or other students since Lauren's death.
"The university has taken no responsibility for Lauren's preventable death. No one has been disciplined or held accountable in the campus police or housing. The university must pay a large amount so that they realize it is in their interest to believe women and act with urgency when their female students ask for help," she said.
McCluskey reported the harassment and stalking to campus police, then eventually called 911. Unfortunately, they directed her back to campus police. Three days later, her stalker killed her. An investigation into her death found the "University of Utah officers did not know how to look up criminal background or parole information" on her stalker, a convicted sex offender "who had twice been sent back to prison for parole violations." He killed himself hours later after a chase with police.
"While there are differences in how we would characterize some of the events leading to Lauren's tragic murder, let me say again that we share the McCluskey family's commitment to improving campus safety," said University President Ruth V. Watkins in a statement. "We continue to address the recommendations identified by the independent review of the university's safety policies, procedures, and resources, and we are making ongoing improvements designed to protect our students and our entire campus community."
Several weeks before her death, Lauren's friends reported to housing officials that her stalker talked about bringing a gun to campus and they "did nothing with the information." On October 22, 2018, she was on the phone with her mom when her stalker approached her, forced her into the back seat of a car, and shot her multiple times.
The McCluskeys said any money received from the lawsuit will go to the charitable organization they founded in their daughter's honor, The Lauren McClusky Foundation, that supports student-athletes, campus safety, and animal welfare.